The body of a Lusignan handyman was found early yesterday morning tucked between the rocks at the Kitty Seawall.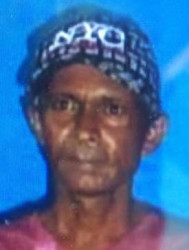 Early morning joggers discovered the body of 43-year-old Havichand Jagwant, of 131 Lusignan, East Coast Demerara. Jagwant was identified from a scar over his left eye that he had sustained from an injury when he was young. His body is at the Lyken's Funeral Home.
"I see he last month, November 13, cause it was my birthday and he always comes to visit me," Yasmattie Jagwant, Havichand's mother, told Stabroek News yesterday. She described the man as being a jolly and fun individual but who was known for his severe drinking habits.
Stabroek News was made to understand that Havichand was last seen on Sunday afternoon on one of the fishing boats in the area smoking a cigarette. At that point, the tide was high and the water was rough. As such, his relatives and friends believe that the man was thrown overboard and drowned.
According to a police source, there was no sign of foul play. A post-mortem examination is expected to be done on Monday.
Around the Web