One of the utility poles which crashed on Hadfield Street on Tuesday evening fell on a minibus but luckily there were no injuries.
The Guyana Power and Light (GPL) is now facing claims from the bus owner and will likely face more for other damage caused along the street.
According to one resident, at around 8 pm on Tuesday, what appeared to be "sparks" from the transformer were observed as the first pole came crashing down on a minibus which was parked in front of her yard. This was followed by "popping" sounds coming from the household appliances that were plugged in at the time. She further stated that the collapse of the first pole caused extra strain on several other poles causing what she described as a domino effect.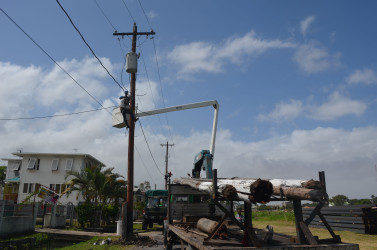 Damage to both the minibus and a sign in front of the residence was evident while a power outlet inside the lower flat of the house was observed to be charred. The woman noted that several appliances had been plugged in at the time of the incident including a refrigerator, a television, a freezer and other electrical appliances. However, she was unable to ascertain whether or not the appliances   suffered any damage since electricity had not yet been restored.
The woman related that she had already visited the GPL office where she was instructed to fill out the necessary forms before she could be compensated. Another house farther down the road also suffered minor damage as the other pole grazed the side of the house, removing a small section of the gutter in the process.
When Stabroek News visited the area yesterday, workers from the Guyana Power and Light Company were seen replacing the poles with new ones. According to one of the workers present at the scene, it would appear that the bottom of the two poles broke causing them to fall, damaging one of the transformers in the process. And while residents speculated that a wood ants infestation would have weakened the poles, the GPL worker was unable to say for sure whether that was the case.
However, the man offered reassurance that electricity would have been restored before the end of yesterday.
Around the Web