Former Georgetown Mayor and well-known florist Compton Young now lives in a senior residential care home but despite this, and having a leg amputated as a result of diabetes, he says he is living his best life yet as he continues to do what he loves, floral arrangements.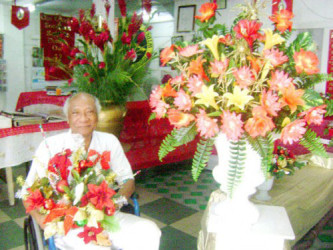 "I enjoy here. I have known this home for years, used to contribute to it before so I did not hesitate to come here. Look around, I still get to do what I love, all the arrangements here I made them," a beaming Young told Stabroek News as he pointed to his creations throughout the St Thomas Moore Men's Homestead, where he now lives.
Speaking to Stabroek News at the Catholic-run home located in Lamaha Street, Kitty, the 74-year-old florist explained that the decision to move to the home came about five years ago when he returned from the United Kingdom, where he had to amputate his right leg, due to neuropathy from diabetes.
He said after 45 years, he decided to sell his shop, World of Flowers on Middle Street, as he felt more than four decades of success was a lot to be thankful for and he could not keep up with taking care of himself and managing the business simultaneously.
"My son lives in Australia and my wife in New York so I did not have anyone living with me. It was an easy decision for me. I am a devout Catholic and for many, many years I used to come to this same home to visit or bring something for the men here. So I decided I would sell (the property on) Middle Street and retire here," he explained.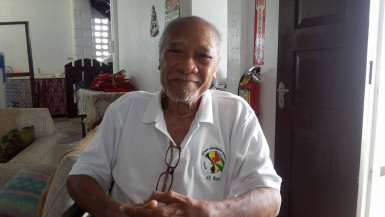 "I used to travel a lot, I cannot lie, I enjoy my life, there are few (places) in this world that I haven't seen so the decision to give up the business was not hard. It was a good business but I knew the time had come for me and that business aspect of floral arrangement," he added.
The son of Chinese and Grenadian immigrants, Young reflected that from a very young age, he realised he was blessed with gifted hands that created art pieces in the form of arranging flowers and foliage. He said he realised that arranging flowers was his calling and this, coupled with his love for plants and nature, was the catalyst to him establishing one of the first floral shops in Guyana. His parents encouraged him to follow his passion and he did.
The youngest child of six, Young started out making paper flowers on North Road but after seeing the potential market, he invested and bought a property on Middle Street and opened World of Flowers. The business was an instant hit and Young's clientele grew with persons throughout Guyana often referring to him as "the flower man."
"I did not go to school to learn this you know. It's these hands I tell you," he chuckled turning his palms up and down. "You have to find your calling and give it your best, it's the best advice. You will love what you do and can see the joy it brings to others also," he said.
For Young, memories of happy customers are many but he has indelible memories of the children of former President Desmond Hoyte, Maxine and Amanda, who would visit weekly to pick up fresh floral arrangements for their parents.
"I see them so vividly, the girls. I always will, you may say but there they were running all bouncy into the shop shouting 'Uncle Compton! Uncle Compton! We come to pick up the things for mommy' and they would burst out laughing because I always said 'Well you came to the right place'," he reminisced.
"The parents would be right in the car you know but they loved the trips to the shop. Oh beautiful girls, well-mannered children, what can I say, so sweet that now when I think of how they died, I am still hurt," he added. The girls died in a car accident while heading to Linden to hear their father speak.
The Hoyte girls would always be his favourite customers because Young said the memories are "too much not to remember" even as he related that on April 30th 1985, when they died, he was also on his way to Linden to be a part of that town's May Day festivities, where the then president gave the feature address.
The late Hoyte was also a friend and it was during his tenure that Young became Mayor of Georgetown. He said during that time, he sought to keep Georgetown a 'Garden City' and he was responsible for the statue of Queen Victoria being placed in the High Court compound.
He told the story of how the Queen came to the High Court. "Victoria (the statue) used to be in the gardens and every time me and my wife drove there we would see the Queen in the trench and my heart bled. No one cared for her, she just ended up in a trench there God knows how. I approached Hoyte told him 'man, the Queen in the trench we can't treat her so' and Hoyte looked at me and he said 'Compton like you want to carry her home nah? Well no you can't take her but you can fix her up.' A good man that Hoyte was," he said.
"The next day he arranged that we have a committee and the rest is history. Victoria is in the Court compound and being taken care of and everyone that passes there can know a part of our history because, you know, we were once a British colony," he added.
These days, Young would take a cab and go for long drives around the city and often would "check on the queen." He related that with his prosthetic leg, he is able to do everything and enjoys days out especially when it entails purchasing items for his arrangements.
The florist said he does not see the home as a place where seniors are just abandoned as the staff not only caters for the specific medical conditions of the occupants but there is a genuine extended family bond as well.
"Here is lovely. Not a complaint in the world child. It is a Catholic home so I miss nothing, we have mass here and everything. They are very kind and I have diabetes and they cook specifically for that for me. I am free to move around get my lil things I need and it's not crowded. I would recommend here to any one because it's basically your home away from home," a smiling Young said.
Around the Web