With his mind set on becoming the Commissioner of Police of Guyana one day, Detective Sergeant Rodwell Sarrabo is working his way up by solving numerous crimes including high-profile murders.
Sarrabo, at the Criminal Investigation Department (CID) Headquarters annual Christmas Luncheon and Awards Ceremony on Monday, was named the best detective for the year. Several other ranks were awarded for their outstanding performance.
Growing up, Sarrabo told Stabroek News, he never dreamt of being a part of the disciplined services but instead wanted to be an accountant. However, this changed after advice from his mother who wanted him to follow in her footsteps. She is also a serving member of the Guyana Police Force.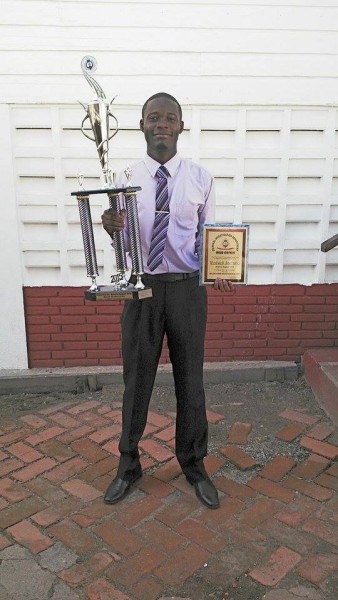 The top detective has been stationed at the CID's major crime unit for the past 10 years during which he solved over 20 murders and other crimes including firearm offences, robbery under arms, frauds and gang-related crimes.
The murders he played a major role in solving include that of Georgetown Public Hospital ambulance dispatcher Melissa Skeete, who was stabbed and tossed from a car onto a city street by her common-law partner on November 23. She subsequently died. Other murders he assisted in solving include those of Montrose granny Danrasie 'Carmen' Ganesh, Sterling product security guard Wilfred Stewart, Guyana Geology and Mines Commission engineer Trevor Abrams, South Ruimveldt resident Christopher Wharton and political activist Courtney Crum-Ewing.
Sarrabo reflected on some of the difficulties he faces almost every day and said the main one for him is the unwillingness of persons to cooperate with investigators. This applies mostly to cases where the suspects are juveniles. "Most juveniles won't speak so instead of having their parents to counsel them, we try to get a Justice of Peace (JP) or social worker," Sarrabo said.
He added that building the capacity of ranks is also another issue and there is a need for the ranks to have more training.
The New Amsterdam, Berbice-born policeman attended the Berbice High School where he sat the Caribbean Secondary Education Certificate exams, graduating in 2004 with six subjects. In 2005, he joined the GPF and was trained for one year before he joined the CID. The 30-year-old father of three now lives at Golden Grove, East Coast Demerara with his wife and children.
He said as much as he is excited at copping the Best Detective 2015 award, he sees it as motivation to work towards achieving more, even as he acknowledged the risks of the job.
"Going to work is a 50% chance knowing that you might not return with all the risks involved but my passion has made me into this fearless person I am today," Sarrabo asserted.
Over the years, Sarrabo had taken countless statements from criminals, testified in numerous courts around Guyana and interviewed suspects. He said it is not an easy task but he has learnt how to approach and speak to people, especially those who may be relatives of the victims.
On many occasions, he said, he had even attempted to leave his job but eventually, as he got more involved, his dedication and loyalty for what he does, grew. "I don't have a normal day, all my days are hectic but it is because I like what I do that keeps me going," he said.
Sarrabo's role model is Commissioner of Police Seelall Persaud, who, according to him pushed him to become who he is today. He also said Crime Chief Wendell Blanhum played a very instrumental role in who he is today. "He has always been there for us from the beginning of every day to when everything is finished, and working under such supervision gives you courage," he said of the top detective.
"Crime is always there and criminals commit these acts without even thinking about the consequences attached but that is where I come in, to solve it and contribute in making my country a better place," Sarrabo declared.
Around the Web