After five years on the run, a Diamond, East Bank Demerara man was yesterday remanded to prison for the 2010 murder of Haslington miner Rawle Peters.
It is alleged that Seon Anthony Edwards, 26, of Diamond on September 2010, murdered Peters at Puruni Landing, Mazaruni. Edwards was not required to plead to the capital offence.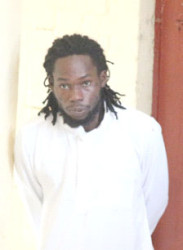 Peters was fatally stabbed following an altercation on September 10, 2010 and he succumbed on the Puruni Trail, Cuyuni/ Mazaruni while efforts were being made to transport him to the Bartica Hospital. Relatives had said his size would have made it impossible for one person to successfully attack him and they opined that more than one person carried out the attack. It was reported that Peters had told his relatives he was threatened during a fight some time ago and it was suspected that the attack stemmed from this old misunderstanding.
Edwards was arrested two Mondays ago at Regent and Hinck streets, Georgetown by ranks of the Criminal Investigation Department. The murder accused reportedly confessed to the crime by telling investigators he and Peters had an argument over some stolen money and he dealt him a single stab.
A post-mortem examination performed on Peters revealed that he died as a result of a puncture to the heart.
Edwards, a father of two, was remanded to prison by Chief Magistrate Ann McLennan, and his matter was transferred to the Bartica Magistrate's Court for January 15, 2016.
Around the Web