A former student of the North Ruimveldt Multilateral School lost her life on Christmas Eve after the taxi she was travelling in collided with another vehicle on Croal Street.
Dead is 18-year-old Camille Pereira of Lot II Bent Street, Wortmanville.
According to the child's grandmother Radica Boodhoo, the last time she saw her granddaughter alive was at around 10 pm on Christmas Eve when Pereira left the house to go pick up her friend. Not more than 45 minutes later, the taxi in which she was travelling reportedly overtook a minibus and ended up colliding with another vehicle. Pereira was in the back seat along with her friends and they were reportedly on their way to purchase food when the incident occurred.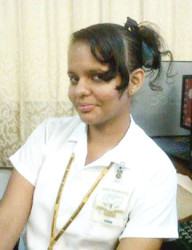 Boodhoo said the family was not notified of the incident until some two hours after it had occurred. She further related that when the child's mother arrived at the hospital, she was not allowed to see her child's body nor could she say who took Pereira to the hospital.
And while the other occupants of the car sustained minor injuries, the driver reportedly walked away without a scratch. "He nah get no injury, he kill meh granddaughter and he get off, my young, young granddaughter," Boodhoo lamented.
According to the grandmother, the post-mortem examination revealed that the girl died from a broken neck and other injuries to her spine as a result of the collision.
Meanwhile, the family has since been informed that the driver of the taxi was taken in custody and has been assisting police with their investigations.
Around the Web