(Barbados Nation) Barba-dos is not doing enough to fix its fiscal problems, according to the latest assessment from the Carib-bean Development Bank (CDB).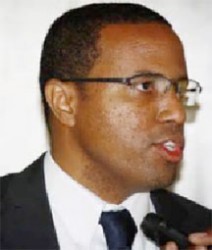 CDB director of economics Dr Justin Ram acknowledged the steps Government had taken to fix its fiscal challenges, but said more needed to be done.
He was speaking at Hilton Barbados yesterday morning as he and CDB president Dr Warren Smith reviewed the bank's performance and that of its borrowing member countries, including Barbados.
"Barbados has started to take the necessary steps in order to bring its fiscal accounts to a sustainable level. However, we at the Caribbean Development Bank believe that there is still more that needs to be done. The level of the primary deficit within Barbados and the overall fiscal balance is still at an unsustainable level and so there is going to be a need for Barbados to have further consolidation," Ram said.
"We don't only advocate for fiscal consolidation, we also advocate for growth enhancing reform. How can you also unlock the economic potential that is in Barbados? How can you make it easier for businesses to invest and to help grow the economy? So that's also very important for us.
"So first, we are saying the Government needs to of course consolidate further, to bring the debt levels to a sustainable level, right now it's not a sustainable level [and] that needs to come down, but they also need to encourage the private sector to have that investment climate, as it were, [and] enact certain legislation. For example, improve the efficiency of the port operator. All of these things together would help boost economic growth over the medium term," he added.
The CDB is predicting there will be two per cent regional economic growth this year.
While Ram pointed to signs that the Caribbean was emerging from economic recession, he urged regional Governments to do more to fix their fiscal and debt problems, thereby allowing them to save more for a "rainy day".
Around the Web