(Trinidad Guardian) Venezuelan President Nicolás Maduro is expected to arrive in T&T tomorrow to hold high-level bilateral talks with Energy Minister Kevin Ramnarine. The Sunday Guardian understands that Maduro is expected to arrive tomorrow morning at Piarco where he will be escorted to the Diplomatic Centre for an 11 am meeting with Ramnarine and members of Government.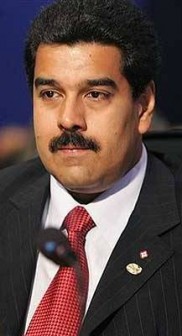 The two men will be hammering out a bilateral energy agreement when they meet. He is expected to sign off on the agreement. It is expected that the future of the Petrocaribe initiative will also be high on the agenda when Maduro and Ramnarine meet tomorrow. The Sunday Guardian was informed that Venezuela's energy minister Rafael Ramírez arrived in Trinidad on Friday in preparation for Maduro's visit.
Maduro is expected to leave T&T tomorrow evening. Calls to Ramnarine's cellphone went unanswered on Saturday. He also did not respond to text messages asking about Maduro's planned visit. Calls to Communications Minister Vasant Bharath's cellphone also went unanswered.
Around the Web