(Trinidad Guardian) Roselyn Alleyne, the mother of People's National Movement leader Dr Keith Rowley's son, Garth, is claiming that an unnamed operative, in cahoots with Minister of the People Vernella Alleyne-Toppin, attempted to get her to confess that she was raped by Rowley 46 years ago.
In a seven-minute video recording released yesterday, Roselyn Alleyne said family members living in Tobago were offered $25,000 to get her to sign an affidavit to this effect.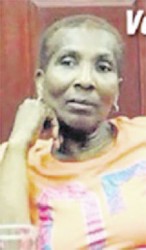 The video, released during a press conference hosted by the women's arm of the PNM at Balisier House, Port-of-Spain, did not show who was conducting the interview and was edited to bleep out the name of the person who was allegedly willing to make the payments for the sworn affidavit.
"I am Garth's mother. All the allegations that Vernella Alleyne-Toppin and (beep) are making right now are false," Alleyne said in the video, which was shot last year. She said she would not be signing any affidavit since she was never raped by Rowley.
"I would not be signing anything because it's not true. … Everything that they have said is false," she said.
While laughing at first at the thought she could not recall her date of birth, Alleyne said she was born in 1952 and said she was "just shy" of 18 when she became pregnant with Rowley's child. Garth was born in 1970, she said.
The video was shown to PNM supporters and the media during the conference and the statement by the Alleynes.
Their joint defence of Rowley triggered a loud round of applause and a call for an immediate election and the resignation of Tobago MP Vernella Alleyne-Toppin, who put the possibility that Garth's birth was due to rape into the public domain during her contribution to the motion of no confidence against Rowley in Parliament on Wednesday.
Senator Camille Robinson-Regis, who hosted the media conference, confirmed that she did not see the affidavit, but in the recording Alleyne (Roselyn) said it just required her to 'say yes' and confirm that she was assaulted by Rowley decades ago.
"They are saying they have an affidavit to sign, just to say yes so they can put him in jail and they are offering money," she said.
She identified a "very close blood relative" and Alleyne-Toppin as the persons representing another person (whose name was edited out) who "had money" and was willing to pay for the signed affidavit.
"So they could proceed to put Rowley in jail and I would be a happy woman with millions," she said.
Around the Web