(Trinidad Express) Rape statements under the protection of parliamentary privilege and the public outcry which followed it are not enough to remove Minister of State in the Ministry of the People and Social Development Vernella Alleyne-Toppin from her post.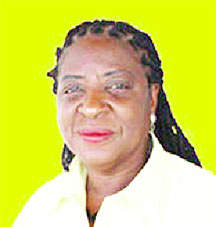 For now, Communica-tions Minister Vasant Bharath says Alleyne-Toppin will retain her portfolio despite a call from former independent senator Martin Daly SC, Chaguanas West MP Jack Warner and the Women's League of the People's National Movement (PNM) and others that she be fired.
Bharath told the Sunday Express on Saturday that the only person who can fire Alleyne-Toppin is Prime Minister Kamla Persad-Bissessar.
Persad-Bissessar on Saturday did not respond to texts from the Sunday Express on whether she would accede to the public outcry and fire Alleyne-Toppin. On Wednesday, Alleyne-Toppin, in her contribution to the no-confidence motion against Opposition Leader Dr Keith Rowley in the Parliament, claimed Rowley was a child of rape and a rapist himself.
On Thursday, Alleyne-Toppin, the Member of Parliament for Tobago East, apologised for her comments about Rowley being a child of rape but called on him to answer questions about a teacher who fathered a child with a pupil in Tobago.
In an exclusive interview with the Express the next day, Roselyn Alleyne, the woman Alleyne-Toppin referred to but did not name in Parliament, said the Tobago East MP's statements were all lies.
Roselyn Alleyne, the mother of Rowley's son Garth, further claimed she was offered a bribe to sign an affidavit stating Rowley had raped her.
Bharath denied the claim of bribery.
Questioned on Saturday whether he thought the Government could survive the fallout from the statements so close to a general election, Bharath answered: "We can survive this. I don't think it's a scandal. The remarks are regrettable and many people are appalled. But I am sure we will be judged on our track record of performance in office," he said.
On Friday, Persad-Bissessar said while she condemned the statements made, she had also accepted Alleyne-Toppin's apology. Persad-Bissessar was not in the Parliament Chamber during Alleyne-Toppin's contribution.
"I would like to add my voice to the voices of concern and condemnation for parts of the statement that the honourable minister made and so I want to make that point up front," she said. On Saturday, Warner issued a statement, which said Persad-Bissessar's reluctance to fire Alleyne-Toppin "demonstrated a callous lack of compassion and sensitivity towards the victims of sexual abuse in her speech to the Parliament on Wednesday".
He described Alleyne-Toppin's contribution as "planned, deliberate and calculated".
He said: "Without even waiting for the tidal wave of condemnation and outrage at Alleyne-Toppin's statement triggered, Persad-Bissessar who professes to be a champion of women and the mother and grandmother of the nation, ought to have revoked Alleyne-Toppin's appointment to the Ministry of the People and Social Development immediately, having already failed to intervene to stop Alleyne-Toppin from making her disgusting statements in the first place.
Around the Web