(Trinidad Express) In her 'apology' to the Parliament yesterday in the wake of the furore over her 'rape' remarks, Minister Vernella Alleyne-Toppin placed the blame on " media reports" of her controversial statements, rather than on the statements themselves.
"In consequent reports in the media, my contribution was unfortunately characterised and exploited as an attack on persons who may have been victims of domestic violence and other such offences", she said in a Personal Explanation to the House of Representatives Tower D, International Wa­terfront Centre, Port of Spain.
"Against this background", she said, "I sincerely apologise to this Honourable House and any person outside of this Parliament for the mischaracterisation which may have been deduced from the statements made during my contribution."
There was however no apology to the person about whom she made the unsubstantiated rape allegations — Opposition Leader Dr Keith Rowley. Two Wednesdays ago (March 25) Alleyne-Toppin suggested that Rowley was the product of a rape and was a rapist himself.
As she rose to speak yesterday, Rowley promptly left the chamber, followed by Port of Spain North/St Ann's West MP Patricia McIntosh.
During the course of her contribution two Wednesdays ago, as she focused on Rowley, the subject of the no confidence debate, Alleyne-Toppin referred to the "violation" , "statutory rape", "child molestation", a "four-man 'sampat' for an unsuspecting young girl", the "kidnap" of a girl, her "detention for four hours against her will" as she posed questions to Rowley. She then spoke of another story involving the "rape of young girl by her father's best friend", the "product" of which is "today the aspirant to lofty office" who grew up to become "aggressive, arrogant, bombastic and spiteful".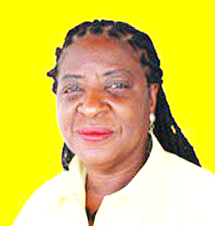 In offering her 'apology' yesterday, she however referred to the issue of domestic violence, which had not been mentioned in her original contribution.
"It was and is never my intention to stigmatise any person whatsoever who may have suffered the indignity of domestic violence of any kind. Clearly my contribution during the debate in question had no such purpose," she said.
Alleyne-Toppin's Personal Explanation came in the face of the rejection and condemnation by so many groups and persons of her contribution to the no confidence motion brought by the Government against Rowley, the debate of which began two Wednesdays ago.
The Minister sought to justify her contribution as part of her long held concern and prosecuting in the public domain of the "sensitive", "indelicate" and "pertinent" issues of rape and domestic violence.
"My longstanding and manifest abhorrence of this type of behaviour has been well established over the many years and particularly within the recent years I have served in this Parliament," she said.
"I sought during my contribution to highlight certain sensitive issues in our society, with which I have had direct experiences and which I considered relevant to the matter being debated. These issues included the indelicate and pertinent issues of rape and domestic violence," Alleyne-Toppin stated.
While her contribution two Wednesdays ago was punctuated with table-thumping support from her colleagues on the government benches; her 'personal explanation' yesterday was greeted with deafening silence. Not a desk thump was heard, even as she concluded her delivery.
Around the Web