(Trinidad Guardian) A 21-year-old man surrendered to the police on Saturday and gave details of the murder of 26-year-old Ashanti Debidin.
The man of Garth Road, Princes Town, surrendered to CNC3's Crime Watch host Ian Alleyne who met the suspect at about 6 pm outside the San Fernando Teaching Hospital.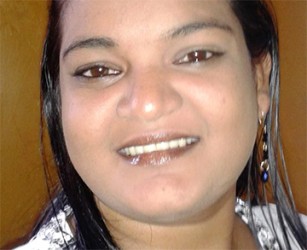 Alleyne had earlier in the day received information and went to a house where he spoke to a woman about the suspect.
The man was then taken to the Homicide Bureau Region 3 at the San Fernando Police Station where he again gave police information about the killing.
Speaking with the media at the Forensic Science Centre, St James, on Monday Debidin's boyfriend Imray "Fats" Siewnarine said the suspect reportedly told others that he chopped the   woman after his girlfriend ended their relationship. Siewnarine added that the suspect said he wanted Siewnarine to feel the way he felt when he was dumped. Siewnarine said he employed the 21-year-old and even gave him money to care for his now seven-month-old baby and was dumbfounded about why he would want to hurt Debidin.
Siewnarine added that last month he saw the suspect in a fast food outlet and was cursed out by the individual and since then he never spoke to him or had any interactions with him.
"To my knowledge I left work about 9:10 am and two hours after I get a phone call from my mother my wife dead.
"They say a fellla from the village, I never had a falling out with the man, never owe him nothing. I dunno, he walk into my kitchen. They say she back was to him and he stabbed her in the head.
" I don't know bout how many other wounds. I assume the autopsy would show that" Siewnarine said, adding that the couple's four year-old son found his mother and called his grandmother who lived upstairs.
Siewnarine added: "This girl innocent she ain't do anybody anything. I living with her for about eight years. "You could come to the village and ask anyone about she. No one has anything bad to say about her. All the youths consider her a mother and all. She was a down-to-earth person.
"The best wife I could ever ask for. I could never find someone in this world like her in a million years. I was living happy. I don't know why this man jealous me." Siewnarine said he knew the man for about three years having hired him to do electrical work.
A Guyanese national with citizenship status in T&T, Debidin's father, Mohan, flew in the country to be with his grandchild and son-in-law. The elderly man said he was distraught by what he had heard and what happened, saying his daughter was a wonderful person.
Around the Web