HAVANA, (Reuters) – Cuban President Raul Castro's son has emerged as one of his father's closest aides, taking on an increasingly important role reminiscent of the one Raul used to play for his older brother Fidel Castro.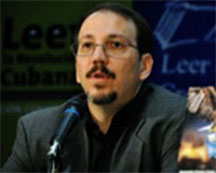 Alejandro Castro Espin, 49, is a colonel in Cuba's interior ministry and was until recently a little-seen figure. As his father has moved to improve relations with the United States after decades of hostility, however, his son has been right by his side.
When Raul Castro, 84, met with U.S. President Barack Obama in a historic encounter at a regional summit in Panama in April, Alejandro Castro Espin was part of the small group in the room. It was unknown what role the son may have played in the 18 months of secret negotiations leading up to the announcement of detente by both presidents last December.
"Clearly Raul is grooming him for more responsibilities, probably higher office and/or rank," said Brian Latell, a former CIA analyst who has closely followed the Castros for decades.
Still, it seems extremely unlikely that Castro Espin is being prepared to take over for his father. Cuba experts see no sign the Castro brothers plan to hand power to any of their children.
"Raul is determined, as his elder brother is, that this isn't going to look like a monarchy," said Hal Klepak, a Canadian historian living in Havana who has written two books on Cuba's military.
The heir apparent is First Vice-President Miguel Diaz-Canel, 55, and Castro Espin flatly ruled out the idea of succeeding his father in an interview with Mega TV of Greece earlier this year.