(Trinidad Express) THE police are already probing themselves but now, the Police Complaints Authority (PCA) has launched its own investigation to determine whether there was any criminal misconduct by police offi¬cers in the alleged discovery of marijuana at Prime Minister Kamla Persad-Bissessar's Phillipine home more than two years ago.
On Tuesday, acting Police Commissioner Stephen Williams ordered a police investigation into the discovery of "five grammes of a plant-like material resembling that of marijuana" at Persad-Bissessar's private residence on April 19, 2013.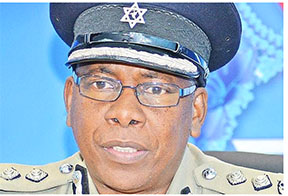 The police probe was ordered following receipt of a signed report at 2 p.m. on Tuesday by Williams, from the operational head of the Special Branch, Snr Supt Gary Gould, confirming the discovery.
The Sunday Express this week published an article written by investigative journalist Denyse Renne, headlined "Smokeout", which focused on an affidavit by Chaguanas West MP and leader of the Indepen¬dent Liberal Party (ILP) Jack Warner, in which he admitted he was part of a plan in 2013 to ensure there was no criminal probe into the discovery of marijuana at the private home of Persad-Bissessar.
Warner, a former FIFA vice-pre¬sident who is wanted by the Uni¬ted States on charges of corruption, said two years ago he was informed by then deputy police commissioner Mer- vyn Richardson about the marijuana find at Persad-Bissessar's home.
He said Richardson, Persad-Bissessar's former security adviser Gary Griffith and Housing Minister Dr Roodal Moonilal were all part of a plan to ensure there was no criminal probe into the alleged marijuana discovery.
Griffith has denied it, Moonilal has said he could not recall the incident and Richardson has no comment to make.
Up to 2 p.m. on Tuesday, the Trinidad and Tobago Police Service seems to have had no official police report on the incident.
Snr Supt McDonald Jacob, of the Criminal Investigation Department (CID)/Criminal Records Office, advised Williams on the absence of any official record of the alleged discovery on Monday, a release from the Trinidad and Tobago Police Service's Public Affairs Unit stated on Tuesday.
Criminal offence or serious police misconduct
The PCA yesterday issued a release on the situation.
"Reference is made to a Trini¬dad and Tobago Police Service (TTPS) media release, 'Investigation ordered into alleged discovery at Prime Minister's private residence', dated 16th June, 2015," the PCA release stated.
"The Police Complaints Autho¬rity (PCA), pursuant to Section 21 (1) (a) of the Police Complaints Authority Act, Chapter 15:05, has commenced an investigation into whether there is conduct on the part of police officers which amounts to a criminal offence or serious police misconduct.
"Upon completion of the PCA's investigation, the authority shall, where deemed necessary, take action in accordance with the Police Complaints Authority Act," the release stated.
Around the Web