(Trinidad Express) During a visit to the Enterprise community in Chaguanas on Saturrday, Prime Minister Kamla Persad-Bissessar announced a joint security force effort to bring gang violence under control.
It will be called "Operation Restore 2".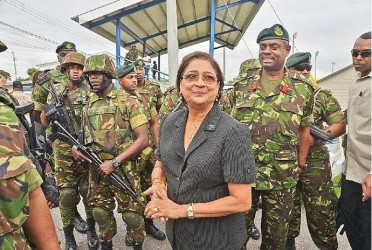 Surrounded by national security officials and Defence Force personnel, Persad-Bissessar said she had conferred with the National Security Council (NSC) and it was agreed a plan was needed.
But not long after the Prime Minister's address at Postman Grounds in Crown Trace, an Indepen-dent Liberal Party (ILP) walk- about, led by political leader Jack Warner, passed by.
The disturbance caused by the passing parade was brief but entertaining for spectators, who expected "bacchanal" as Warner was approached by the media.
Warner's group continued past the grounds, however.
Some residents said it was the first time they had seen the Prime Minister in person, but they said they were grateful she had turned her attention to what has become a war zone.The visit was an im­promptu one when Persad- Bissessar learned of a distri­bution ceremony by the Chaguanas East constituency office, under MP Stephen Cadiz, to furnish the Crown Trace Football Club with sporting kits for an upcoming trip to the Disney International Cup in Florida, USA. The club also received financial assistance from the State.
Protection a priority
Government will not tole­rate "the boldness of criminal elements inciting violence", she said, and the protection of women and children in the area will be a priority. The result will be a joint effort of the military and protective services, and the establishment of a joint-force post to maintain a steady presence, as well as joint patrols.
The effort will be concentrated on Crown Trace and Bhagaloo Trace but will also fan out to the entire community.
Persad-Bissessar said the war in Enterprise was discussed at length at an NSC meeting on Thursday before she left for Barbados to attend a heads of Caricom meeting.
She returned Friday night, with the intention of continuing the effort.
She was joined by a heavy military and police presence and by some of her heads of security—National Security Minister Retired Brig Carl Alfonso, Chief of Defence Staff Major General Kenrick Maharaj, acting Commis-sioner of Police Stephen Williams and head of the Central Division Snr Supt Johnny Abraham.
Chaguanas Mayor Gopaul Boodhan and a number of councillors were also present.
The PM later walked through part of the community, posed for pictures with children and listened to some of the difficulties being experienced by residents. Williams, in a brief address, said there was no place in Trinidad and Tobago that was overwhelmed by criminality.
Crime usually stemmed from a small group, he said, and pledged support to the community's sporting events, which he viewed as a way to keep the young people busy.
Cadiz had earlier announced that a series of sporting activities are to be set up for the two-month school vacation period.
Williams said he wanted to restore the "peace and love" that Enterprise has always enjoyed.
The Crown Trace FC was congratulated by Maharaj, who said it was easy to focus on the negatives and lose sight of the positive.
The Defence Force will always offer its support, Maharaj said, adding many members of the Force originated from that general area. Pledging joint patrols and a programme by the military to engage the "hearts and minds" of residents, Maharaj said no community must be left behind.
Muslim elder Imam Mau­lam Abdullah, head of the mosque in Crown Trace, yesterday told the media there appears to have been a ceasefire, for now.
Warner Walks 
Speaking to the media on the street as the Prime Minister distributed sporting kits a few metres away at the Postman Grounds Pavilion, Warner said Persad-Bissessar was only in the area because he was doing it. Earlier this week he had claimed credit for bringing at least a temporary ceasefire to the area through dialogue with warring Enterprise factions.
Warner said he had met quietly with alleged gang leaders over the past week and that Persad-Bissessar was making the crime situation "political".
"It's only on election time we seeing them," Warner said.
"We didn't tell anyone that we visit the area, we tell no one that we talk with the men in the various sections."
He also remarked: "She is welcome to follow me, she would finally be doing something right."
Around the Web