(Trinidad Express) Trinidadian national Kareem Ibrahim, who was convicted in the United States and sentenced to life in prison for plotting to blow up the JFK airport in New York, has been declared a terrorist by the local courts.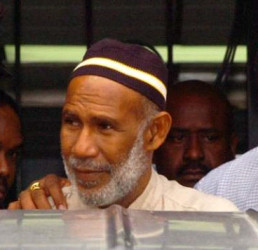 The ruling was handed down yesterday by Justice Nadia Kangaloo in the Hall of Justice, Port of Spain.
Last Friday Office of the Attorney General filed the application, under Section 22B of the Anti-Terrorism Act (2005) seeking to have Ibrahim deemed a terrorist and to put a freeze on his assets. However, the State was unable to identify any business and real estate interests connected to Ibrahim, which it intended to seize. Attorneys Pamela Elder SC and Michael Rooplal, who are representing the AG's Office and head of the Central Authority Netram Kowlessar, made submissions before Justice Kangaloo.
The matter was adjourned to yesterday after the attorneys asked for time to file supplemental affidavits to reinforce the case for having Ibrahim listed as a terrorist. Ibrahim, 70, former of Cane Farm road, Tacarigua, was sentenced to life in prison in the United States after he was found guilty of conspiring with others to commit acts of terrorism at John F Kennedy International Airport by exploding fuel tanks and a fuel pipeline under the airport.
The move by the State came following the terror attacks in Paris last month that left 129 people dead and many more injured. Attorney General Faris Al-Rawi said the State will be moving to file several more applications at the High Court, to have other individuals listed as terrorists and have their assets seized in the near future.
The State now has six days to make the order public through publication in the Gazette while Ibrahim has 60 days to appeal the judge's ruling should he decide to do so.
Around the Web