(Trinidad Guardian) Political legend, cultural icon, mentor to many. Those were among tributes which have poured in for longstanding political and cultural figure Dr Kamaluddin "Charch" Mohammed who died Tuesday night and who was laid to rest on Wednesday evening at the El Socorro cemetery.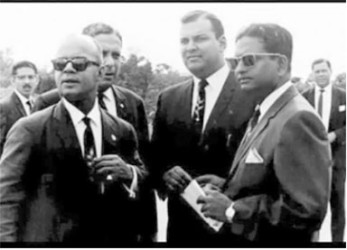 Last rites Janaza prayers were held for Mohammed at the Nur E Islam Mosque, El Socorro, at 4.30 pm on Wednesday. Mohammed, 88, who had been ailing for the last two years, had been hospitalised at Mt Hope Hospital at various points, family members said.
On Wednesday, the National Security Ministry instructed that national flags be flown at half mast—denoting the nation was in mourning— in observance of the passing of the former PNM Cabinet minister and PNM deputy leader.
"T&T has lost a great legend and an icon,he was the last of the Mohicans, so to speak," his son Alimuddin said in an interview.
"We thank everyone for the flood of condolences which have been pouring in since his death.  We, his family, would like to carry out some of his traditions. His life and his work were guided by the discipline of his religion which assisted his success," he said.
Mohammed's niece, Nafeesa Mohammed, added: "Uncle Kamal's passing marks the end of an era. He was the family patriarch and many of us in the family have learnt from him and his life and the inspiration he has provided to the family. Everyone has always looked up to him.
"As we say farewell to him, may he be blessed and Allah reward him richly for the good he has done in his lifetime. His life epitomised service to community. For him politics was about service to the people.
"There are many lessons to be learnt from his life, from politics and culture to religion. He was a humble man who served with deep humility."
Up until his death, Mohammed had been the last surviving member of the country's very first PNM cabinet of 1956. A condolence book has been opened at PNM's Balisier House headquarters, Port-of-Spain and is open from 9 am to 4 pm.
Mohammed had served T&T for over 60 years at various levels, from politics and religion to culture, including broadcasting, and was regarded as a mentor by many sectors. His public service began as an imam with the Jaamah Masjid, his son said.
Mohammed entered politics in 1953 with community council elections. After meeting Dr Eric Williams in 1954, he assisted in founding the PNM in 1956 with  Williams.
A key figure in the Williams' PNM administration he was a one-time Barataria MP and also served as minister in a number of portfolios from Agriculture, Public Utilities and  External Affairs to West Indian Affairs, Local Government and Health.
Mohammed's son said his father had been the first non-caucasian to be chair of the United Nations' World Health Assembly for two terms. The Mt Hope Complex and Maternity Hospital were both built  also under his watch.
After 30 years with the PNM and after he retired, he was returned to active service by former prime minister Basdeo Panday who appointed him Caricom ambassador during the UNC's tenure from 1991-1995.
Mohammed was honoured during the PP administration's tenure, receiving the Order of T&T and honorary doctorate awards. He was also presented with the Order of Caricom by the regional body.
Mohammed's son said in recent years "Charch" continued to be active in religion, giving lectures and advice.
Mohammed who was fifth in a family of 13 attended the Canadian Mission School in El Socorro, going on to win a scholarship to Osmond High School.  Mohammed and many of his relatives who lived close by in one area were also known for their family location: "Mohammedville".
His wife, 80, and six children, survive him.
Around the Web