(Trinidad Guardian) One of 11 men charged with the murder of Senior Counsel Dana Seetahal has given a statement implicating the others and admitting to his role in the crime, and may likely be used as a witness against the others.
But in order to protect the accused, whose identity has not been released, he was separated from the others and taken away by a convoy of officers attached to the Criminal Gang and Intelligence Unit yesterday, shortly after a brief court appearance in the Port-of-Spain Magistrates' Court.
The prisoner asked Chief Magistrate Marcia Ayers-Caesar not to send him back to the Port-of-Spain Prison, saying he now feared for his safety.
Sources said last night that immediate steps were also taken to protect the co-accused's family. No decision has yet been taken on whether he will in fact be used as a witness, nor has any deal been offered to him in exchange for his testimony, reliable sources said.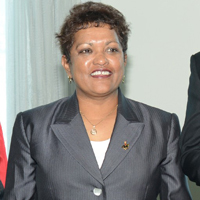 At best, legal sources said, investigators will have to weigh his evidence carefully and consult the Office of the Director of Public Prosecutions before arriving at any decision. Legal sources said the prisoner, if co-operative, will be allowed to consult an independent attorney before making his decision.
This means the case against the ten, all members of the Carapo mosque of the Jamaat-al-Muslimeen, can get a boost if the prisoner pleads guilty to the crime, since previously it was primarily based on scientific, forensic and wire tap evidence. But top legal sources said while the potential evidence was worthy of consideration any pronouncement of a deal being reached was premature.
Agents from United States Federal Bureau of Investigations and other foreign agencies assisted a specially selected team of local officers in the murder probe.
Legal sources said last night that a similar scenario to what happened in the 1996 case of Dole Chadee and his gang of nine, after one of the accused, Levi Morris, pleaded guilty to the Baboolal quadruple murders and agreed to testify against the others, can now unfold.
Chadee and the others were convicted and eventually executed by the State for their crimes and Morris was given a new identity and placed in a witness protection programme in the United States. Similarly, in this case, the prisoner will have to plead guilty to the crime, give evidence against his co-accused and then be sentenced.
In court yesterday, there was no hint of the new development. Instead, Director of Public Prosecutions Roger Gaspard, SC, requested a warrant to be issued for the arrest of a 26-year-old Carapo man who escaped police custody last month on a charge of being a members of a gang, and possession of a bullet-proof vest.
The prisoner, Peter Solaimon, managed to squeeze his body through the food slot of the cell and walked out of the Central Police Station on St Vincent Street, Port-of-Spain, on November 9. He has not been seen since.
Once arrested, Solaimon is expected to be also charged with escaping lawful custody. He will join Stacy Griffith, Deon Peters and David Ector, who were charged with gang offences. During yesterday's brief hearing, the Chief Magistrate gave instructions on the filing of submissions on an application from the accused men, who are asking her to recuse herself from the case.
They are contending that Ayers-Caesar should step down on the basis of apparent bias, as her security detail had comprised officers of the Criminal Gang and Intelligence Unit (CGIU), who led the investigation into Seetahal's murder.
Ayers-Caesar has already recused herself from another case, in which some of the men charged with Seetahal's murder, including reputed gang leader Rajaee Ali, are separately accused of conspiring to murder radio announcer Kevaughn "Lerbz" Savory.
Attorney Criston J Williams, who as representing most of the accused men on both charges, was told to file his submissions by Christmas Eve, with Gaspard being given five days in which to respond. Ayers-Caesar is expected to give her decision by the next hearing on January 6.
Seetahal was shot dead after being ambushed by gunmen while driving along Hamilton Holder Street, Woodbrook, on May 4. She was returning to her home at One Woodbrook Place after leaving at Ma Pau Casino, Ariapita Avenue. The group was eventually charged on July 27 this year.
Those charged with murdering Seetahal and with gang offences: 
1. Rajaee Ali, 29, of Rose Drive, Carapo;
2. Devaughn Cummings, 29, of Poui Lane, Malabar, Arima;
3. Ishmael Ali, 30, of Pinewood Drive, Carapo, Arima (brother of Rajaee Ali);
4. Ricardo Stewart, 30, of Rose Drive, Carapo, Arima;
5. Earl Richards, 48, of Waterhole, Cocorite;
6. Stephan Cummings, 33, of Rose Drive, Carapo;
7. Gareth Wiseman, 33, of Caledonia Road, Lange Park, Chaguanas;
8. Hamid Ali, 34, of Melodians Crescent, Malabar, Arima, (brother of Rajaee Ali);
9. Kevin Parkinson, 28, of Waterhole, Cocorite;
10. Leston Gonzales, 28, of Malabar, Arima; and,
11. Roget Boucher, 29, of Rose Drive, Carapo.
Around the Web