CARACAS, (Reuters) – Venezuela's outgoing National Assembly yesterday tapped a judge loathed by the opposition for jailing politician Leopoldo Lopez as an ombudsman amid an increasingly hostile confrontation following legislative elections.
Judge Susana Barreiros ruled in September that Lopez had masterminded anti-government riots that erupted last year, and sentenced him to nearly 14 years in prison.
The opposition, which deems the U.S.-educated activist a scapegoat of a dictatorial government, decried Barreiros' appointment to one of Venezuela's two prominent public watchdog posts for human rights and justice.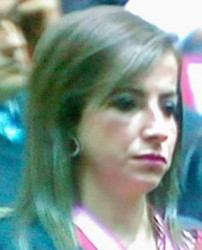 "Appointing Susana Barreiros further encourages the use of justice for political gain," said non-government rights group Provea.
Venezuela's opposition won a two-thirds majority in the National Assembly in elections last Sunday. Its priority when the new legislature convenes in January is an amnesty law for jailed politicians including Lopez.
Presaging a political showdown, President Nicolas Maduro has warned he will veto an amnesty law, and his Socialist Party aims to appoint over a dozen Supreme Court judges before rivals take the legislature.
Opposition leaders vowed yesterday to remove Barreiros in the New Year, but it would likely be a complicated process involving the Supreme Court. Dozens of lawmakers-elect traveled to the Ramo Verde military jail, where Lopez is held, to call for his freedom.
The broadly unpopular Maduro has lashed out at former government supporters who turned against him as an economic crisis, including food shortages and inflation, pummels the OPEC country.
On television this week, he even threatened to scale back a flagship government housing project for low-income families.
"I wanted to build 500,000 houses next year. But now I'm doubting that. I asked for your support and you didn't give it to me," he said, also warning the opposition-led Congress would cut spending on welfare.
Critics said Maduro should eschew scare tactics and instead tackle a ballooning economic crisis rooted in dysfunctional state controls and exacerbated by the oil price fall.
Lopez is a divisive figure among Maduro's rivals. While hardliners laud Lopez for taking to the street last year, some opposition moderates feel he is a hothead who miscalculated.
Around the Web