The couple, including the pregnant Guyanese born-Canadian woman, nabbed last week while allegedly trying to smuggle over 20 kilogrammes of cocaine onto a flight bound for Canada, was yesterday remanded to prison on drug trafficking charges.
It is alleged Mahendra Ramsuchit, 29, of Lot 18 Rose Hall, East Canje, Berbice, and his wife, Rohbina Basdeoram, initially evaded detection by boarding the flight by way of the VIP section on the pretext of being relatives of a government official. They both pleaded not guilty to the charges.
According to the charges read by Chief Magistrate Priya Sewnarine-Beharry in George-town yesterday, on January 30, at the Cheddi Jagan International Airport (CJIA), Ramsuchit, 29, of Lot 18 Rose Hall, East Canje, Berbice, had in his possession 10.392 kilogrammes of cocaine for the purpose of trafficking, while Basdeoram had in her possession 10.968 kilogrammes for the same purpose.
The police case's is that around 12:10 am, the couple was on a Fly Jamaica flight destined for Toronto, Canada after boarding the plane via the VIP section at the airport. They had not been subjected to a search but while they were on the plane authorities learned that they had not been listed to access the VIP section and this led to searches being done. Searches conducted on two laptop bags and two suitcases uncovered the cocaine and Ramsuchit and Basdeoram allegedly admitted to having knowledge of the substance.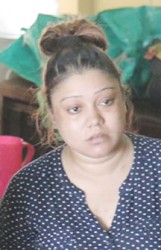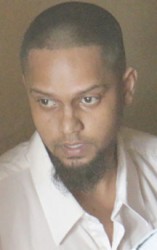 Ramsuchit's attorney asked for bail to be granted in a reasonable sum. He told the court his client holds a temporary resident permit for Canada but it is currently in the possession of the Criminal Investigations Department (CID) headquarters.
Additionally, he said that Ramsuchit is willing to abide by any condition set down by the court although he has no knowledge of the cocaine and the luggage wasn't in his possession at the material time of the alleged offence.
Basdeoram's attorney also said his client had denied the charge. He added that she was not a flight risk. He informed the court she is due to deliver in April and her delivery is expected be delicate since she will need to undergo a Caesarian-section. As a result, he asked the court to use its discretion and grant her bail in the light of the circumstances.
However, Police Prosecutor Michael Grant objected to bail based on the nature, gravity and prevalence of the offence and he pointed out that no special reason related to the charge was provided to the court for bail to even be considered.
Bail was subsequently refused and the case was adjourned until February 13.
The CJIA last Friday announced the arrest of Ramsuchit and Basdeoram.
In a statement, the CJIA noted that a man, who identified himself as Kenneth Jones, presented forged documents from the Ministry of Foreign Affairs to the Airport Duty Office (ADO) stating that he was carrying out protocol duties for Ramsuchit and Basdeoram.
The CJIA said Jones presented the two individuals as relatives of a government official before security checks revealed them all to be impostors.
The Ministry of Agriculture subsequently said it had employed a "Kenroy Joseph" as a personal assistant to Junior Minister Ali Baksh during the period January 10, 2012 to June 10, 2014, when he resigned his position. "Since his resignation Mr Joseph has not been authorized to provide protocol services for the Minister within the Ministry of Agriculture or any other government official," it added.
Comments

Gregory Bascom, the city policeman who allegedly fatally shot mentally ill vendor Marlon Fredericks after he reportedly attempted to flee custody on Sunday, was today charged with manslaughter and released on $800,000 bail.


The National Accreditation Council of Guyana (NAC) is advising the public that the American Medical Institution is not registered with the NAC as is legally required for post-secondary and tertiary educational institutions operating in Guyana.

MUMBAI, (Reuters) – India captain Virat Kohli had something to cheer on Thursday when he was named ICC World Cricketer of the Year, a day after suffering his first test series defeat as skipper in South Africa.

Fifteen city councillors voted yesterday in favour of accepting the recommendations of the parking meter renegotiation committee, which would see a reduction in parking fees to $150 per hour, exemptions for religious organisations and schools, and Smart City Solutions (SCS) giving up on their claim to garage parking.

A GDF rank was yesterday remanded to prison over three armed robbery charges and alleged possession of an unlicensed gun and ammunition.