APNU Executive Carl Greenidge has lodged a writ in the High Court seeking to prevent the government from accessing a US$17M loan from the Inter-American Development Bank (IDB) outside of the Consolidated Fund and the required Appropriation Act.
Finance Minister Dr Ashni Singh and Attorney General Anil Nandlall have been named as the defendants.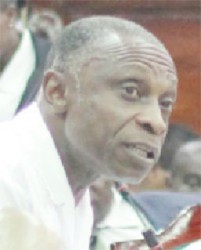 Greenidge, a former Minister of Finance, is seeking declarations that the proceeds of the loan for the recently signed agreement must be paid into the Consolidated Fund of Guyana and that there must be no withdrawal of these proceeds except by appropriation under Article 217 of the Constitution. Greenidge is also seeking a declaration that Singh cannot lawfully spend the monies from the loan unless authorised by the National Assembly.
A conservatory order directed to Singh and his delegates to prevent the spending of the funds pending the hearing of the substantive action is also being sought by Greenidge.
In his affidavit in support of the summons, Greenidge listed a series of concerns including that the 10th Parliament has been dissolved without an Appropriation Act being approved in relation to the IDB loan. He also cited Parliament's disapproval last year of budget funds for the Low Carbon Development Programme, which is to benefit from the proceeds of the IDB loan in question.
He said he feared that Singh will spend the sums unless prohibited by the Court. He then cited a series of actions by Singh which he said led him to be fearful of this. These actions included the spending by Singh of $4.5B last year which the High Court recently ruled had been illegitimate. He also cited the conduct of government holding company NICIL, of which Singh is part, over its expenditures. Greenidge also referenced a complaint which had been lodged against Singh with the Institute of Chartered Accountants of Guyana.
The writ was issued by attorney Roysdale Forde.
Comments

GENEVA,  (Reuters) – Armed groups execute and torture civilians in Libya in almost complete impunity seven years after the revolution that toppled Muammar Gaddafi, the United Nations human rights office said on Wednesday.

A group of international researchers and petroleum policy advisors will today meet Cabinet ministers to discuss the emerging oil and gas sector and give insight into prudent preparations for the revenues that will be generated from the industry.

A 41-year old mother from Central Amelia's Ward, Linden, died on Monday evening, having reportedly suffered severe haemorrhaging after delivering a 10-pound baby at the Linden Hospital Complex.

Autopsies performed on the remains of Dextroy Cordis, Errol Adams and Kwame Assanah, the three accused robbery suspects who were fatally shot by the police along the Seawall Public Road, in Georgetown last Thursday, have confirmed that they all died from multiple gunshot injuries The autopsies was performed on Monday at the Georgetown Public Hospital mortuary by government pathologist Dr.

Henry Rupert Smith, for the third time, has been appointed Mayor of Mabaruma by Minister of Communities Ronald Bulkan.