After admitting to fatally bludgeoning a fellow inmate at the New Amsterdam Prison, Jason Orlando McKenzie, known as "Psycho," was sentenced to 12 years in jail yesterday.
McKenzie, 28, of Lot 291 Rosignol, West Bank Berbice, was sentenced by Justice Brassington Reynolds in the High Court at Berbice, where he had pleaded guilty to manslaughter last week.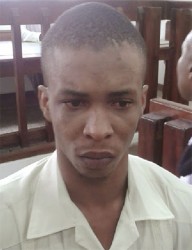 McKenzie had originally been charged with the murder of Sebastian Cleto, but admitted guilt to the lesser charge. Cleto, 22, died in hospital days after the attack.
Justice Reynolds told McKenzie that he noted that the attack resulted from a "spontaneous predisposition."
He added that credit must be given for McKenzie's guilty plea and for his not wasting the court's time. He also told McKenzie that he should seek counselling, as was suggested by his probation officer, in order to give himself a second chance.
The sentencing started off at 20 years but Justice Reynolds subtracted five years for McKenzie not wasting the court's time and four years for the time he spent incarcerated. However, the trial Judge added a year for the brutal manner in which Cleto was killed.
Prior to sentencing, a probation report on McKenzie, was presented by probation and welfare officer Joanne Samuels, who said the man, "Habitually involves himself in aggressive behaviour, which results in him being violent."
"He was described as a bully and never shared a good relationship with the neighbourhood," Samuels also reported.
It was noted too that while in prison McKenzie found himself in numerous problems with fellow inmates." The report also suggested that McKenzie's behaviour could have resulted from his parents' separation when he ten. In conclusion, Samuels recommended that McKenzie should undergo counselling, which can be found in confines of prison.
McKenzie's attorney, Raymond Ali, told the court that his client "needs rehabilitation but whatever sentence is given should allow him substantial time back in the community." Urging compassion for his client, he also said that "he admitted" to the killing very early during the investigation. Senior state counsel Judith Gildharie-Mursalin had asked the judge to consider the loss of a life and to impose a sentence that would be just in all of the circumstances and one that would send a clear and strong message of deterrence to others in society.
Gildharie-Mursalin said McKenzie and three others—Rickford La Fleur, Raymond La Fleur and Kevin James—attacked Cleto and another prisoner, Andy Adams while they were watching television. The four men were armed with iron bars and pieces of wood during the attack and Adams later said he was beaten until he became unconscious. He did not see what happened to Cleto. A post-mortem examination later revealed that Cleto died as a result of brain haemorrhaging and a fractured skull.
The prosecutor also stated that McKenzie gave a written statement to investigators. It quoted him as saying, "…Sebastian Cleto pull a juker pon me and I tek a piece of wood pon de bench and lash he pon he head and he fall down. Them prison officer come and carry he away. Me later hear he dead in hospital."
Although others had been charged for the crime, at the end of the preliminary inquiry only McKenzie was committed to stand trial. McKenzie is also facing four counts of attempted murder charges stemming from an attack at the New Amsterdam prison last year.
Comments

(Trinidad Guardian) Education Minister Anthony Garcia says the University of Trinidad and Tobago (UTT) is of the view that the organisation is "overstaffed and to run the university efficiently it will mean they have to trim fat." But former Tertiary Education Minister Fazal Karim is warning that the decision to retrench 287 staff members, will "compromise the quality of teaching and learning and administration at the university," and may impact its accreditation with the Accreditation Council of Trinidad and Tobago (ACTT).

In preparation for Guyana's emerging oil and gas sector and the bustling business usually synonymous with the industry, the Pegasus Hotel is expected to undergo a huge expansion which includes office and residential rental spaces.

Police Commissioner Seelall Persaud is to resume his duties today after spending approximately six months on leave, Public Security Minister Khemraj Ramjattan yesterday confirmed to Stabroek News.
The Alliance For Change (AFC) yesterday launched a scathing attack on the union GAWU, accusing it of decades of sabotage of the sugar industry and not genuinely representing the interests of its workers.

The importance of foot health, especially for persons with diabetes, was emphasized by Podologist Yvonne Braithwaite yesterday, when she launched the local leg of Rovon Health Care Inc, which includes a foot spa.