On May 13, Ivan Roberto Sierra -Medel was appointed the newest Mexican Ambassador to Caricom strengthening the ties first established in 1974.
According to a Caricom press release, Sierra-Medel's credentials were accepted by Caricom Secretary General Irwin LaRocque who noted the significance of the continued relationship which was Caricom's first bilateral "joint commission that facilitated the promotion of economic, cultural and technological cooperation."
Further, LaRocque said Caricom embraces the opportunity of continued collaboration especially as it relates to the Region's strategic objectives as outlined in the Community Strategic Plan and those at the international level. "In fora such as the G20," LaRocque said "where small states like ours are excluded, Mexico's membership provides an important platform for your country to put forward our views on issues such as those related to 'graduation' and access to concessionary development financing."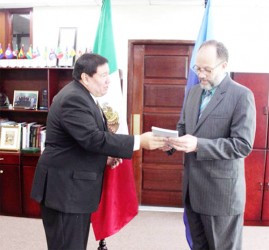 LaRocque said the recent signing of the Memorandum of Agreement between Mexico and the Caribbean Public Health Agency (CARPHA) was another example of the country's commitment to forge stronger ties with the Region. More significant, LaRocque noted the valuable exchange of best practices and cooperation in areas of climate change, disaster management, health, food security, transnational security and marine management which became possible through Mexico's advancement.
Additionally, Caricom said it is looking forward to Mexico's support during "the three imminent international conferences: Third International Conference on Financing for Development; the UN Summit on the Post- 2015 Development Agenda; and the UN Framework Convention on Climate Change in December, COP 21." All of which, Caricom said, "have a bearing on the future global agenda and the development of the Region."
Comments

(Trinidad Guardian)  "Dwight, I forgive you." So stated reigning Chutney Soca Monarch Neval Chatelal in an open letter to former T&T and Manchester United striker Dwight Yorke yesterday, following the repayment of a $250,000 loan.

Fireworks in the background this morning after the Golden Arrowhead was hoisted at D'Urban Park marking the 48th anniversary of the country's Republican status.

The controversial Production Sharing Agreement (PSA) signed between the government and ExxonMobil's local subsidiary and partners is final and will not be subject to any changes, Minister of State Joseph Harmon said yesterday.

General Manager Holly Greaves yesterday said the National Insurance Scheme (NIS) is re-examining its investment in the Berbice Bridge after dismal returns over the past few years.
A gunman yesterday afternoon shot and robbed a senior CARICOM Secreta-riat employee after he left the Republic Bank (Guyana) Limited branch at Triumph, East Coast Demerara (ECD), in what is the most recent attack on the bank's customers.