Former U.S. President Jimmy Carter issued the following statement today:

"I would like to congratulate President David Granger and the APNU/AFC coalition on their success in the 2015 election. I have great expectations that the new government will reach out and promote healing and reconciliation in Guyana. It is now time for all Guyanese to unite and work together to realize the great potential of their country."
The Carter Center deployed more than 50 observers throughout all 10 regions of Guyana for the 2015 general and regional elections. Its observers remained in the country to monitor the process of tabulating and declaring results, a statement from the Carter Center said.
Comments

The chairman of Trinidad's transparency group says that it  is imperative that an independent third party check revenues from the company extracting oil and the subsequent flows to the government.
Even as ExxonMobil announced that it doesn't expect to pay any corporate taxes to the Australian government until 2021 after an already five-year tax hiatus, the company has  been accused of generating billions in revenue in that country  but using subsidiaries in a scheme designed to avoid paying its dues.

In the wake of the state-owned Guyana Chronicle's termination of David Hinds and Lincoln Lewis as columnists, WPA executive member Tacuma Ogunseye says that party should urgently put on its agenda whether it should stay in the APNU alliance and the coalition government.

President of Transparency Institute of Guyana Inc (TIGI), Troy Thomas says he believes that it was pressure from the people that saw "the unprecedented" release of oil contracts by the government.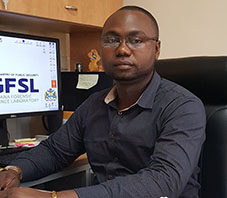 The Guyana Forensic Science Laboratory (GFSL) has spent a substantial amount of time training police investigators in various aspects of evidence collection and submission and this has resulted in a significant improvement in the quality of samples sent for testing, the facility's Director Delon France says.