One year after being appointed to office, Senior Superintendent of Police Leslie James has been replaced as Crime Chief, apparently in keeping with the new government's plan of a management overhaul for the Guyana Police Force which has been failing in many areas over the years.
Senior Superintendent Wendell Blanhum who was the deputy Crime Chief is scheduled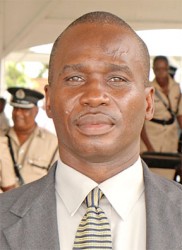 to take up the top post during the course of this week, sources have confirmed.
The decision to replace James was apparently made yesterday. It is unclear what may have been the driving force behind the change.
James became the Head of the Criminal Investi-gation Department (CID) after Seelall Persaud was named the acting police commissioner in April, 2014. Persaud was later confirmed.
It is unclear what James' new position will be.
Sources have said that the David Granger-led government plans to shift around police commanders and that several are to be replaced.
So far Commander of 'B' Division Brian Joseph has been named head of the presidential guard.
Comments

An international firm will advise the Guyana Government on how to market the country's remaining unassigned oil blocks, according to Natural Resources Minister Raphael Trotman.

Minister of State Joseph Harmon has berated Auditor General Deodat Sharma for publicly commenting on the ongoing investigation of the D'Urban Park Development Project and for reaching out to a private company for information instead of the government.

Skeletal remains, suspected to be those of an elderly Plaisance resident, were yesterday discovered in the ruins of the Victoria Road, Plaisance, East Coast Demerara apartment building that was razed by a mystery fire on Friday.

Two business owners say they are now counting millions of dollars in losses after a fire, suspected to have been started by a child playing with matches, gutted a stall and a bond in the Parika Market Centre yesterday morning.
Following the revamping of a road project, US$10 million (G$2 billion) from an Inter-American Development Bank (IDB) loan will go towards housing subsidies in Sophia, Cummings Lodge and nearby areas.