One year after being appointed to office, Senior Superintendent of Police Leslie James has been replaced as Crime Chief, apparently in keeping with the new government's plan of a management overhaul for the Guyana Police Force which has been failing in many areas over the years.
Senior Superintendent Wendell Blanhum who was the deputy Crime Chief is scheduled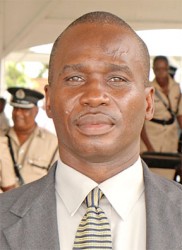 to take up the top post during the course of this week, sources have confirmed.
The decision to replace James was apparently made yesterday. It is unclear what may have been the driving force behind the change.
James became the Head of the Criminal Investi-gation Department (CID) after Seelall Persaud was named the acting police commissioner in April, 2014. Persaud was later confirmed.
It is unclear what James' new position will be.
Sources have said that the David Granger-led government plans to shift around police commanders and that several are to be replaced.
So far Commander of 'B' Division Brian Joseph has been named head of the presidential guard.
Comments

(Trinidad Guardian) Over 2,000 school janitors are threatening to stay off the job in the new school term in January if they are not paid outstanding salaries owed since October.

Opposition Leader Bharrat Jagdeo needs to address behavioural challenges among  his party's parliamentarians as their actions in disrupting his speech to the National Assembly last month and last Monday's ruckus in the House are disrespectful and vulgar, President David Granger says.

Finance Minister, Winston Jordan says the US$10M purportedly paid by Canadian oil company, CGX Energy, to lawyers for the state in the maritime boundary dispute between Guyana and Suriname, under the PPP/C administration, should have been recorded in the public accounts.

Two plainclothes policemen were at the press table at parliament yesterday apparently pretending to be reporters and one was ordered away by his superiors after several journalists complained to the Clerk of the National Assembly.

A 30-year-old machine operator is currently battling for his life in a city hospital after he was shot minutes after midnight yesterday by armed bandits who invaded his Kaneville, East Bank Demerara house where a birthday dinner had just been held for his wife.