One year after being appointed to office, Senior Superintendent of Police Leslie James has been replaced as Crime Chief, apparently in keeping with the new government's plan of a management overhaul for the Guyana Police Force which has been failing in many areas over the years.
Senior Superintendent Wendell Blanhum who was the deputy Crime Chief is scheduled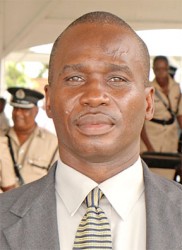 to take up the top post during the course of this week, sources have confirmed.
The decision to replace James was apparently made yesterday. It is unclear what may have been the driving force behind the change.
James became the Head of the Criminal Investi-gation Department (CID) after Seelall Persaud was named the acting police commissioner in April, 2014. Persaud was later confirmed.
It is unclear what James' new position will be.
Sources have said that the David Granger-led government plans to shift around police commanders and that several are to be replaced.
So far Commander of 'B' Division Brian Joseph has been named head of the presidential guard.
Comments

Although government's advisor on oil and gas, Jan Mangal, has argued that competitive bidding should be employed in the award of future oil exploration leases, Minister of Foreign Affairs Carl Greenidge says such an approach may not benefit Guyana's interests in the long term.

Police investigators will be focusing on the alleged sexual abuse of a 15-year-old boy committed by a city constabulary officer two months ago and not on the failure of the Mayor of City Council (M&CC) of Georgetown to report the case in a timely manner, 'A' Division Commander Marlon Chapman said yesterday.

A domestic brawl nearly turned deadly on Tuesday night when a man allegedly armed himself with a bottle of gasoline and attempted to set his wife on fire at Newtown, Kitty.

The wooden home of a Diamond, East Bank Demerara family of six went up flames yesterday afternoon, after a fire was started by a child who was playing with a sparkle stick.

Education Minister Nicolette Henry on Mon-day assured the government's commitment to the "inclusion, protection, and recognition" of the Lesbian, Gay, Bisexual, Transgender and Queer (LGBTQ) community, saying it is deserving of all rights under the law like the rest of the citizenry.