Chief Executive Officer (CEO) of the Guyana Office for Investment (Go-Invest), Keith Burrowes has resigned from his post in the wake of the change in governments and amid concerns that his appointment was political.
Burrowes told Stabroek News yesterday that since he took up the post of CEO he has changed various mechanisms within the investment structure noting that many of the investment portfolios that were submitted to the Guyana Revenue Authority (GRA) for approval have not yet been signed off on.
He said that he was prepared to continue dialogue with the Minister of Business Dominic Gaskin to provide a comprehensive breakdown of the investment entity's work since he took over as the CEO in April last year. Prior to taking over as CEO, he served as Chairman.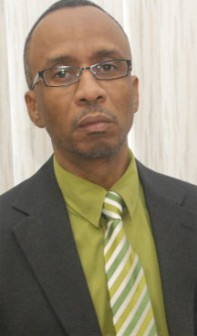 Burrowes, who has held a string of senior positions under PPP/C governments, said that should the Minister, any members of the government and members of the private sector have issues with the conduct of Go-Invest during his tenure they are welcome to provide evidence of any wrongdoing. He said that he was also prepared to showcase a report prepared while he was in office outlining the way forward for Go-Invest inclusive of a marketing strategy.
He said that prior to the change in government he was preparing to present to the government an agenda to take Go-Invest from a facilitating agency to one of a promotion and facilitating agency. He likened many components of the government investment agency to a post office which receives portfolios which are considered and later sent to the GRA for approval.
He noted that prior to becoming the CEO last year, while on the Board of Directors he was pushing for monies from the Inter-American Development Bank which would have allowed for the implementation of restructuring strategies. When questioned on these changes, Burrowes stated that maintaining the reputation of Go-Invest was necessary and he would first want to ventilate these concerns and revisions of structure with the Minister.
Burrowes noted that the Research and Development Unit was devised to take on some of the outward criticism of the investment agency. Go-Invest has been continuously criticized for its lack of transparency and was front and centre when it was revealed that legislation and the agency were manipulated and used for millions in concessions to Queens Atlantic Investment Inc (QAII) in 2008.
Analyst Christopher Ram at the time had written in Stabroek Business on July 13, 2008 that the deal facilitated by Go-Invest between the government at the time and QAII showed "how a serious erosion of the tax base by the extension of generous concessions unlawfully given to a favoured few contribute to the creation of an uneven playing field that instead of encouraging investment has the direct opposite effect."
The agency has a history of shying away from public scrutiny and has remained fairly unresponsive to various queries by Stabroek News as it relates to major international investment deals such as the $500M Bornion Guyana Inc venture which allocated 10,000 acres in the Canje Basin to plant rubber, multiple Baishanlin investments and the D Y Patil Group's MOU for the cultivation of over 50,000 hectares of land.
Burrowes noted that since he has headed the government investment agency he had approved roughly 90 percent of the proposals. However much of the criticism has not been about the approval of proposals but the tendency to favour known government supporters.
He said that he was prepared to step down from his position on Friday, but noted that he was also willing to assist with a transition period.
Burrowes stated that there were multiple competent persons currently at Go-Invest who could step into the positon of CEO and work with the new minister.
Burrowes noted that he had already stepped down as Chairman of the Guyana Chronicle's Board of Directors as well as from the Guyana Sugar Cor-poration Board. In the case of the latter, the new APNU+AFC government recently called on the board members to resign.
Comments

Since producing its first gold bar in August 2015, Canadian miner, Guyana Goldfields Inc (GGI) says it has paid US$26.5m in royalties to the state and purchased US$84.1m in goods and services from local businesses.

(Trinidad Guardian) When everyone felt that the case was closed on the kidnap and murder of United States citizen Balram "Balo" Maharaj, comes news that new motions have been filed in the Federal Court in Washington DC, which could see a new trial for the seven convicted Trinidadians.

HARARE,  (Reuters) – President Robert Mugabe was dismissed as leader of Zimbabwe's ruling ZANU-PF party today in a move to force a peaceful end to his 37 years in power following a de facto military coup.

Former Attorney General Anil Nandlall says that the Attorney General's Chambers' retention of six attorneys to prosecute a number of high profile cases is unconstitutional and he is warning that the right to a fair trial will be compromised by a politically-tainted process.
Guyana's total public debt increased from $317.7 billion to $330.6 billion in 2016 but the total debt as a percentage of Gross Domestic Product (GDP) declined to 46.4% from 48.6% at the end of 2015 due to a nominal increase in the GDP.