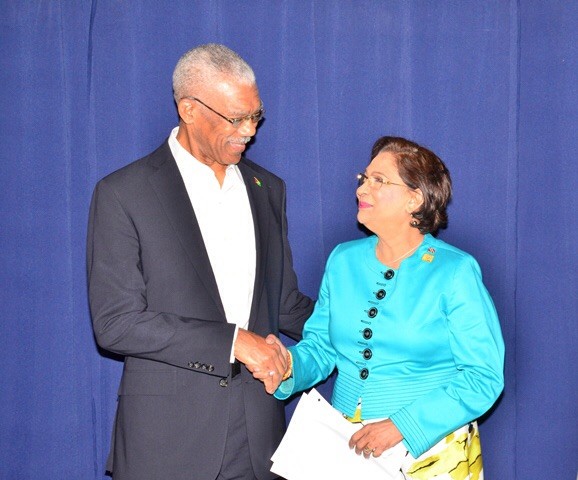 Prime Minister of Trinidad and Tobago, Kamla Persad-Bissessar says her country is in full support of Guyana as it relates to recent decree made by Venezuelan President Nicolas Maduro over most of Guyana's exclusive economic zone, GINA reported this afternoon.
According to the Trinidadian Leader, the decree is illegal as it is clearly in contravention of the International Law of the Sea, and it is in this regard her country will remain steadfast to President David Granger's call to have the decree withdrawn.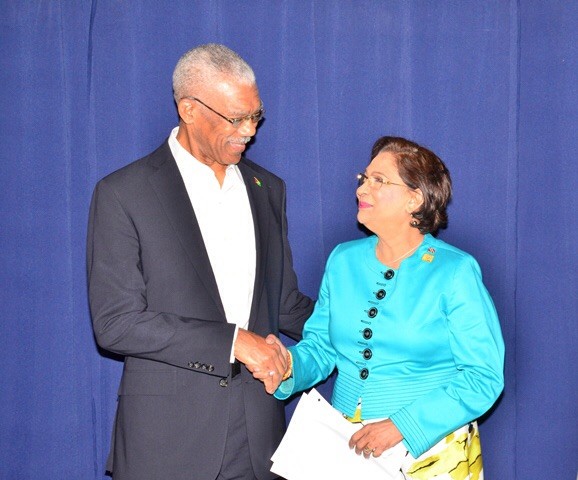 "Trinidad and Tobago fully supports Guyana with respect to the border (controversy). We have gone a step further, we have always had discussions with Guyana and we offered to assist in any way that we can by having dialogue at the bilateral or multilateral level."
Persad-Bissessar reiterated that at this point in time she is pleased to see the support being offered to Guyana, by the United Nations, the Commonwealth and CARICOM since the impact of the decree, GINA said.
"Guyana should find the support because it (the decree) is in violation of the rule of law, and we are looking at the impact on the Eastern Caribbean."
The Prime Minister pledged her country's continued support to Guyana and its newest oil exploration project.
Persad-Bissessar stated that she will be in talks with Venezuela with the aim of making dialogue possible with Guyana.
She stated that even though the situation seems to have gone beyond the point of dialogue, it is her belief that discussion is the best way, GINA reported.
The Venezuelan decree not only claims sea space belonging to Guyana, but also of Trinidad, Suriname and Barbados.
Comments

Jerry Lewis   LOS ANGELES,  (Reuters) – Jerry Lewis, the high prince of low-brow comedy on stage and in movies as well as a fund-raising powerhouse with his annual Labor Day telethon, died today of "natural causes" at the age of 91, his family said.

Beharry Automotive Limited (BAL) , the authorised distributor for Toyota parts and lubricants, says that an abundance  of imitation Toyota parts and lubricants have entered the market with the Toyota logo and trademark.

Grace Mugabe   HARARE,  (Reuters) – Zimbabwe's first lady Grace Mugabe returned from South Africa early today, state media reported, after a 20-year-old model accused her of assault in an upmarket Johannesburg hotel room.

Michael Bhopaul, 16, doesn't know if he is this year's best performer at    the Caribbean Secondary Examination Certificate (CSEC) Examinations, but with preliminary results showing that he has obtained passes in 25 subjects, he will be hard to top.

Inmates at the Lusignan Prison turned over 33 improvised weapons yesterday morning to prison authorities, who say that they also apologised to the prison staff for the unrest at the facility on Friday night.