Former Attorney General Anil Nandlall says the arrest of his ex-security guard in the investigation into the murder of Courtney Crum-Ewing appears as much ado about nothing.
Writing in his column 'The Unruly Horse' in today's edition of the Mirror newspaper, Nandlall said he learnt that Narine had been released after 72 hours in police custody and his detention hardly had anything to do with the Crum-Ewi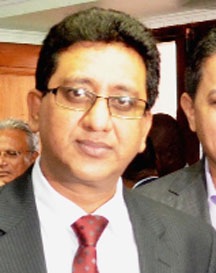 ng case but with an attempt by a known person in the criminal underworld to implicate Narine in a wholly unrelated incident.
Nandlall, who had come under pressure following the arrest of Narine, said in his column that the ex-guard confirmed in a subsequent media interview that it was his brother Anter from New York who was responsible for them meeting. Further, Narine said that he was hired by the AG after the Crum-Ewing killing and did not know the AG before this. Nandlall said these facts were exculpatory of him and he noted that two Thursdays ago he was forced to call a press conference at which he stressed that he had only come to know Rajput Narine days after the murder of Crum-Ewing and that he had nothing to do with the killing.
Nandlall also took a swipe at Prime Minister Moses Nagamootoo over the latter's claim this week that a black automobile belonging to Nandlall was seen driving past his house on the same day that a vehicle allegedly with self-confessed death squad member, Shawn Hinds was accused of surveilling the PM's residence.
"If Mr Nagamootoo was an unknown quantity to me and not publicly known for his fabricating qualities, I would have been worried. As a result, I dismissed his wild ranting as delusions of grandeur",Nandlall said.
Citing the charging last week of two former PPP/C ministers, Nandlall also posed the question as to who is next to be arrested and said that no one is apparently safe.
"What is certain is that in 23 years of government not one Opposition political figure of any worth was charged under the PPP/Civic administration. In two months, two have been charged under the coalition government. Certainly, more will be. There is no doubt in my mind that democracy is under threat and authoritarianism is on the rise", the former AG said.
He also saw an important role for the media.
"The media has an important role to play. The sooner it purges itself of political jaundice the better for democracy and indeed Guyana", he said.
Comments

Several candidates recorded outstanding performances at this year's Caribbean Advanced Proficiency Examination (CAPE).

 Geometric improvements will be carried out on the East Coast Railway Embankment Road come September for smoother traffic flow.
Swift action by the Law Enforcement and Investigation Division (LEID) of the Guyana Revenue Authority (GRA) aided in the removal of a large quantity of seized foreign chicken from two separate cold storage facilities in the Berbice area after it was discovered that the commodities were unlawfully being disposed of, the GRA said today.

Farha Faiz, a lawyer, speaks with the media after a verdict for the controversial Muslim quick divorce law outside the Supreme Court in New Delhi, India August 22, 2017.  

Defeat Tallawahs by 37 runs Chris Gayle, playing in his 50th CPL match, produced his 63rd T20 fifty as St Kitts & Nevis Patriots cruised past Jamaica Tallawahs by 37 runs to guarantee a place in the playoffs for the first time in their three-year history.