Former Attorney General Anil Nandlall says the arrest of his ex-security guard in the investigation into the murder of Courtney Crum-Ewing appears as much ado about nothing.
Writing in his column 'The Unruly Horse' in today's edition of the Mirror newspaper, Nandlall said he learnt that Narine had been released after 72 hours in police custody and his detention hardly had anything to do with the Crum-Ewi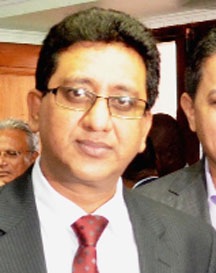 ng case but with an attempt by a known person in the criminal underworld to implicate Narine in a wholly unrelated incident.
Nandlall, who had come under pressure following the arrest of Narine, said in his column that the ex-guard confirmed in a subsequent media interview that it was his brother Anter from New York who was responsible for them meeting. Further, Narine said that he was hired by the AG after the Crum-Ewing killing and did not know the AG before this. Nandlall said these facts were exculpatory of him and he noted that two Thursdays ago he was forced to call a press conference at which he stressed that he had only come to know Rajput Narine days after the murder of Crum-Ewing and that he had nothing to do with the killing.
Nandlall also took a swipe at Prime Minister Moses Nagamootoo over the latter's claim this week that a black automobile belonging to Nandlall was seen driving past his house on the same day that a vehicle allegedly with self-confessed death squad member, Shawn Hinds was accused of surveilling the PM's residence.
"If Mr Nagamootoo was an unknown quantity to me and not publicly known for his fabricating qualities, I would have been worried. As a result, I dismissed his wild ranting as delusions of grandeur",Nandlall said.
Citing the charging last week of two former PPP/C ministers, Nandlall also posed the question as to who is next to be arrested and said that no one is apparently safe.
"What is certain is that in 23 years of government not one Opposition political figure of any worth was charged under the PPP/Civic administration. In two months, two have been charged under the coalition government. Certainly, more will be. There is no doubt in my mind that democracy is under threat and authoritarianism is on the rise", the former AG said.
He also saw an important role for the media.
"The media has an important role to play. The sooner it purges itself of political jaundice the better for democracy and indeed Guyana", he said.
Comments

Jerry Lewis   LOS ANGELES,  (Reuters) – Jerry Lewis, the high prince of low-brow comedy on stage and in movies as well as a fund-raising powerhouse with his annual Labor Day telethon, died today of "natural causes" at the age of 91, his family said.

Beharry Automotive Limited (BAL) , the authorised distributor for Toyota parts and lubricants, says that an abundance  of imitation Toyota parts and lubricants have entered the market with the Toyota logo and trademark.

Grace Mugabe   HARARE,  (Reuters) – Zimbabwe's first lady Grace Mugabe returned from South Africa early today, state media reported, after a 20-year-old model accused her of assault in an upmarket Johannesburg hotel room.

Michael Bhopaul, 16, doesn't know if he is this year's best performer at    the Caribbean Secondary Examination Certificate (CSEC) Examinations, but with preliminary results showing that he has obtained passes in 25 subjects, he will be hard to top.

Inmates at the Lusignan Prison turned over 33 improvised weapons yesterday morning to prison authorities, who say that they also apologised to the prison staff for the unrest at the facility on Friday night.