A United Nations (UN) anti-corruption agency has proposed to assist Guyana with a UN prosecutor on corruption to ensure thorough investigations of such crimes in the future.
Regional representative of the United Nations Office on Drugs and Crime (UNODC) Amado Philip de Andres said yesterday that after being stone-walled by the previous PPP/C government on corruption discussions, the response from the APNU+AFC government has been positive and finalized proposals coming out of discussions could be implemented as early as year-end.
"It is also important to mention that with the previous government, the UN had a lot of problems because the Government of Guyana is party to the United Nations Conven-tion against Corruption and now we are reviewing the implementation by the Guyanese authorities of this convention. We never obtained any response and now with the new government we are obtaining strong responses that the fight against corruption… [is] for real," he told reporters.
de Andres was part of a UN team that visited the Attorney-General's (AG) Carmichael Street office to discuss issues which falls under the mandate of the UNODC. The agency aims to assist member states in their struggle against illicit drugs, crime and terrorism. Transnational crimes centered on crime and the trafficking of drugs have been worrisome for Guyana and over the years, evidence has emerged that corruption at various levels have helped to fuel these types of crimes.
The UN representative explained that yesterday's meeting was an "initial mission" coming on the heels of discussions with the prime minister one day earlier. He said that UNODC is a specialized agency which works closely with the UN resident coordinator who is based in Guyana.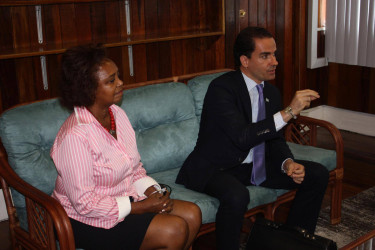 He said that the discussions so far are twofold: prevention and prosecution, and investigation with regards to corruption and money laundering. He informed that in the case of the AG, UNODC was looking at some options for asset recovery and specialized anti-corruption investigations.
One option, he said, is to support the government and, more particularly, the AG with a UN prosecutor on corruption "working mainly to mainstream legislation and ensure that future investigations on corruption which I would say are more and more sophisticated, are carried out in the right way."
Reporters were inform-ed that given the positive response from government, the UNODC has already had discussions with Minister of Governance Raphael Trotman which were centred on supporting government in the establishment of a network of compliance officers. "In the Ministry of Planning or public works when you have procurement, you always have your one or two or three compliance officers certified by the United Nations so that is one option we were discussing with the minister," de Andres said while adding that the other option is to have an anti-corruption diploma course for civil servants with some specialization on transparency which "could be a kind of like the entry door to good anti-corruption practices for any government official at the technical level."
He said that the UNODC is also interested in working with the private sector as it is felt that this body has a major role to play. "Guyana will have an expanding private sector in the next five years and something we would like to explore is how the private sector will work hand-in-glove with the government of Guyana and the Attorney General's office to prevent and also to fight corruption," he said.
Asked how soon the results of these discussions would be seen, de Andres told reporters that through the office of the UN resident coordinator, UNODC will lay over a list of proposals to government in the next few weeks. "It is for the government to approve or to make some recommendations. Once that happens which could probably take place in October, we would be ready providing that funding is available for what the government needs…we could start sometime between December and January next year," he disclosed.
AG Basil Williams told reporters that the meeting was to re-discuss wide ranging issues with specific emphasis on anti-corruption, asset recovery, money laundering, trafficking in persons and other aspects of transnational crimes. He said that the discussions so far have been very "informative."
Williams said that government is interested in anti-corruption, noting that while in opposition, "we fought valiantly against corruption in the last government. So we are very much interested in correcting corruption in Guyana…we welcome the proposals and these discussions have opened certain avenues that we can follow."
He said that he has requested certain things from de Andres which he hopes will be received so that "we will be able to move on from there."
Comments

WASHINGTON,  (Reuters) – A former senior official in Donald Trump's 2016 presidential campaign, Rick Gates, pleaded guilty today to conspiracy against the United States and lying to investigators, and is cooperating with a federal probe into Russia's role in the election.

(Trinidad Guardian)  "Dwight, I forgive you." So stated reigning Chutney Soca Monarch Neval Chatelal in an open letter to former T&T and Manchester United striker Dwight Yorke yesterday, following the repayment of a $250,000 loan.

The controversial Production Sharing Agreement (PSA) signed between the government and ExxonMobil's local subsidiary and partners is final and will not be subject to any changes, Minister of State Joseph Harmon said yesterday.

General Manager Holly Greaves yesterday said the National Insurance Scheme (NIS) is re-examining its investment in the Berbice Bridge after dismal returns over the past few years.