At the Vreed-en-Hoop court yesterday, two women were denied their pre-trial freedom when they appeared before Magistrate Crystal Lambert to answer robbery charges.
Maria Davidson, 28, was charged with four counts of armed robbery while Diana Peters, 48 both of Kaneville, East Bank Demerara faced charges of conspiracy to commit a robbery.
They were not required to plead to the indictable offences and are expected to return to court on November 6 for report and fixture.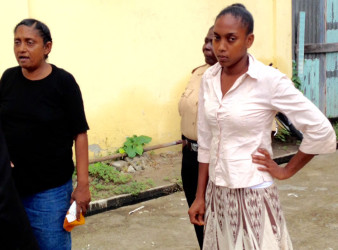 It is alleged that on Wednesday October 14 at Vreed-en-Hoop, Davidson, while in the company of others and armed with a gun, relieved Tessa Roberts of almost $167,000 property of Church's Chicken.
She also reportedly robbed: Colleen Vanderbelt of a cell phone valued $11,000, Shebiki Rodney of a Blackberry cell phone worth $25,000, Tessa Angus of a BLU cell phone valued $15,000 and Nadia Lo Hing of a Nokia cell phone costing $15,000.
The court also heard that between October 8 and 14, Peters conspired with Gary Beckles and others to rob Church's Chicken.
In objecting to bail, Corporal Jairam Lukhai prosecuting, argued that if granted bail, Davidson who worked at the Church's branch, would interfere with witnesses.
He also submitted that bail should be refused for both defendants because of the seriousness and prevalence of the offences.
The prosecutor further argued that other charges of a similar nature are likely to be laid against Peters.
Comments

With growing pressure on the government over the overcrowding of jails, MP Michael Carrington is confident that the parliamentary bill in his name to ease penalties on marijuana use will gain the support of the governing APNU+AFC benches of which he is a member.
The National Toshaos Council (NTC) is to begin its conference today and high on the agenda will likely be ongoing concerns about the lands commission of inquiry (CoI) which the government has convened.
A Trinidad-based medical products company has secured four contracts worth $135.4m. According to the Ministry of the Presidency (MotP), Cabinet at its meeting on August 15,2017 noted the award of 16 multi-million-dollar contracts.

The police on Friday evening discovered an AK-47 assault rifle and a quantity of ammunition in a haversack at Kingston, Georgetown.

A parcel consisting of 1,154 grammes of marijuana was intercepted after being thrown over the north eastern fence of the New Amsterdam Prison on Saturday afternoon.