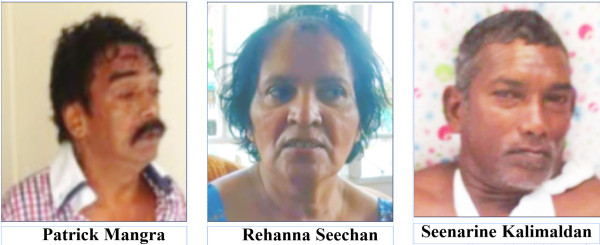 Police are investigating robberies in East Berbice, Corentyne which occurred over the weekend and left some of the victims hospitalised.
The persons robbed were 62-year-old Patrick Mangra, Rehanna Seechan 66, both of Lot 257 Number Two Village, Public Road, East Canje Berbice and a Corentyne cane harvester Seenarine Kalimaldan of Chesney.
The No 2 village couple was robbed of an undisclosed amount of jewellery and cash along with a television set and other household items.

At the No.2 Village East Canje robbery, Mangra said both himself and wife were sitting downstairs when he saw three men entering his premises. The man who suffered a laceration to his head said, the men hid their faces with cloth and came towards them under the house.
According to him, the men captured them and took them to the back of their home. Mangra said he tried to fight off the men but one of them overpowered him by placing his hands across his mouth and nose. Nevertheless, the elderly man said after he felt stifled, he attempted a more aggressive act in trying to escape but the men tore off the vest he was wearing and tied him up with it. They hit him on his head and he passed out for a while.
Mangra stated it was a five-man attack. Two men stood guard while three took his wife upstairs and demanded she cooperate with them.
However, Seechan said, that while she was at the back of the house, she had handed over a few pieces of jewellery she was wearing at the time. After handing over the jewellery, she said three men took her upstairs and forced her to open the door of the upper flat. As the men entered, they began ransacking the house in search of items which they deemed to be of value. According to the woman, the bandits threatened to take her life if she didn't give them the other jewellery she had in her home. At that point, she gave them some jewellery which belonged to her husband along with cash.
After that, Seechan said she was placed to lie on the floor as the men tied up her mouth, hands and feet. However, one of the thieves took two television sets out of the house but in his bid to escape as he jumped across the neighbour's yard, left one of the television sets behind and it was recovered.
The couple was rescued by persons who became aware of the robbery after the bandits escaped. Police were summoned to the scene and began investigations. However, Seechan expressed disappointment in the police for beginning investigations prior to taking them to the hospital for medical attention.
Nevertheless, they are hoping that justice would be served.
Meanwhile, police are investigating the other Corentyne robbery which occurred in Rose Hall Town on Saturday between 6:30 pm and 7:00 pm.
The robbery victim, Seenarine Kalimaldan is currently hospitalised since he suffered a broken hand after being beaten during the attack.
Two men on bicycles followed Kalimaldan through an alley as he went to purchase phone cards at a shop in Rose hall.
The bandits, who are said to be young men, cornered the victim and dealt him several blows with a piece of wood. They reportedly robbed him of a cellular phone, his bicycle and $20,000 cash.
Kalimaldan said when he tried to escape, the bandits dealt him more lashes and left him in the alley until he gained the strength to make a report at the Rose Hall outpost. After which, he was taken to the New Amsterdam hospital where he was administered medical attention and had his hand placed in plaster of Paris.
Comments

For the limited reopening of the Skeldon and Enmore sugar estates next month, government is in the process of borrowing some $10B to 15B from local commercial banks here, Minister of Finance Winston Jordan says.

A 38-year-old electrical contractor narrowly escaped death yesterday after he was shot and robbed of $600,000 by two motorcycle bandits who trailed him from a bank before cornering him at his Enmore, East Coast Demerara (ECD) worksite.
Guyana has registered its highest score on the Transparency International (TI) Corruption Index Report but even with a mark of 38 and ranking at 91 out of 180 countries it is still viewed as a very corrupt country.
Guyana's appeal over the constitutionality of presidential term limits will now be heard on March 12 by the Caribbean Court of Justice (CCJ), according to the Trinidad-based court's schedule of sittings.

Despite GWI's Managing Director, Richard Van West-Charles arguing strongly for tariff increases, the Public Utilities Commission (PUC) yesterday insisted that the accounts of the utility be presented for examination.