Milton Eastman, the accused burglar who was apprehended in the Survi-val Supermarket earlier this year, was on Friday cleared of a robbery charge by Magistrate Fabayo Azore.
It was alleged that between January 27th and January 28th, at Survival Supermarket, in George-town, Eastman, being together with others, stole 37 live rounds of .32 ammunition, a .32 magazine and $6M in cash, amounting to $6, 032,000, belonging to Parshuram Arjune, the owner of the supermarket.
Magistrate Azore found Eastman to be not guilty of the charge as she stated that the witness testimony had been unreliable and hence she was not satisfied beyond a reasonable doubt that the man had been the perpetrator.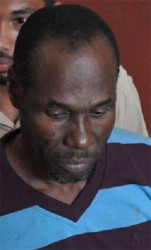 According to the prosecution's report, which was presented at Eastman's arraignment, at about 11pm that day, Arjune secured his business and left for home. Sometime later, a security guard on duty heard noises coming from a section of the building and contacted Arjune, then went with a few other persons to investigate.
Three burglars were seen on the top floor of the supermarket but the group only managed to apprehend Eastman, who was later charged with the crime. The prosecutor's report had stated that upon searching the accused, $2 million was recovered on his person.
The other two suspects in the robbery reportedly escaped on foot after firing rounds at the security guard.
Comments

With growing pressure on the government over the overcrowding of jails, MP Michael Carrington is confident that the parliamentary bill in his name to ease penalties on marijuana use will gain the support of the governing APNU+AFC benches of which he is a member.
The National Toshaos Council (NTC) is to begin its conference today and high on the agenda will likely be ongoing concerns about the lands commission of inquiry (CoI) which the government has convened.
A Trinidad-based medical products company has secured four contracts worth $135.4m. According to the Ministry of the Presidency (MotP), Cabinet at its meeting on August 15,2017 noted the award of 16 multi-million-dollar contracts.

The police on Friday evening discovered an AK-47 assault rifle and a quantity of ammunition in a haversack at Kingston, Georgetown.

A parcel consisting of 1,154 grammes of marijuana was intercepted after being thrown over the north eastern fence of the New Amsterdam Prison on Saturday afternoon.