The family of a 35-year-old woman, who delivered a stillborn baby at the Georgetown Public Hospital (GPH) on Wednesday afternoon, blames negligence by medical personnel and is calling for a thorough investigation to be launched.
Sumarie Balwant, called "Shalinie," 35, of Lot 640 Good Hope, East Coast Demerara, is currently hospitalised at the GPH. Up to late yesterday, she was in a stable condition and was showing some signs of improvement.
Stabroek News understands that Balwant was pregnant with her second child. She had delivered the first via Caesarean section (C-section).
On Monday when she visited the GPH clinic, which she had been attending throughout her entire pregnancy, Balwant was told that she was ready for delivery and should return the following day to be admitted, which she did. However, according to   her relatives although Balwant's water broke and she indicated that she was experiencing terrible labour pain, she was told by nurses that she was not ready, even after they had conducted an examination, leaving family with the belief that this was what caused the baby to die.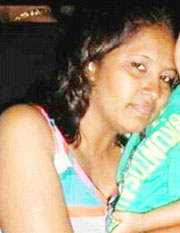 Minister of Public Health Dr George Norton, in an invited comment, expressed his condolences to the family of the child. He described the case as a very unfortunate one and went on to explain that the baby died as a result of an abnormal condition during pregnancy called velamentous cord insertion. Normally, the umbilical cord is inserted in the middle of the placenta as it develops but in this condition the cord is inserted on the membranes rather than on the placental mass. It leaves vessels unprotected, which can rupture at any time during pregnancy causing foetal blood loss and death. According to scholarly sources, although spontaneous rupture has been reported before labour and with or without intact membranes, it occurs most often when the amniotic sac is deliberately ruptured to force the onset of labour.
Norton claimed that if diagnosed early, there would have been a need for a C-section as early as 35 weeks.
Diagnosis is done during ultrasounds and the problem can be seen as early as the first trimester.
Speaking to this newspaper, Balwant's mother, Yungal Kumarie, said she took her daughter to the GPH early on Tuesday morning. She said Balwant was experiencing pain that did not cease.
The woman said although Balwant was examined and her "water bag" burst on Wednesday and she told the nurses she was feeling like she was about to deliver, they continuously doubted her.
The family learnt of the horrific incident after a neighbour, who has a close associate at the hospital called to enquire about Balwant's condition, and was told that the baby had died in her.
Kumarie said she and other relatives then rushed to the hospital, where they saw Balwant lying in the theatre.
At this point, the relatives also learnt that Balwant was stopped from contacting her relatives after the doctors could not find the heartbeat of the baby while preparing her for delivery on Tuesday.
"She said she did coming to us to tell we, but one of the nurses yelled at her for her not to tell us what happen," Balwant's sister, Tanuja Rampersaud, said. "They stopped her and told her to go and lay down back on the bed," Rampersaud added. "We want to know who is responsible for all this because no one is taking the blame."
Relatives vented about the increase of such situations at the hospital. "Is every time you got to hear somebody died or some baby died during delivery or after because of their negligence and nobody don't take the blame," one relative said.
When told of the complaints by Balwant's relatives about the nurse's behavior, Norton said, "I am not happy with the kind of treatment patients receive from nurses and I think from the frequency with which I hear these comments alone, there is a need for a lot more work in the area." He added, "Nurses are mothers also and too often I hear about the mistreatment of patients, especially mothers."
Comments
The police say they are investigating a shooting incident which occurred about 11:20 am today at Leopold and Breda streets, Charlestown during which shop owner, Jacqueline Lagnah, 55, of 83 Leopold and Breda streets, sustained two suspected gunshot injuries to her lower back.

CARACAS/SAN CRISTOBAL, Venezuela,  (Reuters) – A wave of looting by hungry mobs across Venezuela has left streets of shuttered shops in provincial towns and pushed some store owners to arm themselves with guns and machetes, stirring fear that the turmoil could spread to the capital Caracas.

Taariq Stephens (New York Daily News photo) A Brooklyn man got a 41-year maximum prison sentence yesterday for killing a 16-year-old Guyanese girl who authorities said rejected his advances.

PRETORIA,  (Reuters) – Debutant Lungi Ngidi took six wickets as South Africa defeated India by 135 runs to claim victory in the second test in Pretoria today and also win the series with an unassailable 2-0 lead in the three-match contest.

(Trinidad Guardian) Environmental activist group Fishermen and Friends of the Sea (FFOS) has obtained an interim injunction barring the Government from continuing work on the first phase of the $400M Churchill Roosevelt Highway Extension to Manzanilla.