The National Air Transport Association (NATA) yesterday honoured three members of the civil aviation sector in commemoration of International Civil Aviation Day.
Director of Aviation Safety Regulations Ankar Doobay, Operations Super-visor Bholanauth Baijnath and Captain Gary Sahai were honoured for their sterling contributions to the local aviation sector.
Doobay started off as an aircraft maintenance engineer in 1982, two years later he became chief engineer at Air Services Limited. Additionally, when the Civil Aviation transitioned to the Guyana Civil Aviation Authority, he was appointed Manager of Airworthiness and he was recently appointed Director of Aviation Safety Regulations.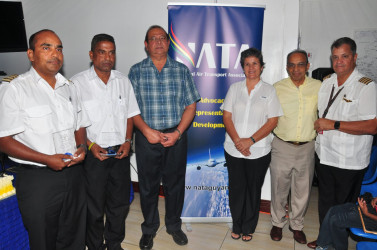 Sahai obtained his private pilot's licence at the Guyana School of Aviation. He did his commercial flight training at Flight Safety International in Miami. He started flying in 1997 and has achieved the mark of 10,000 flying hours and 4,000 hours on agriculture flights.
Meanwhile, Baijnath ventured into the aviation field in 1988 working with Trans Guyana where he had opportunities to travel to the hinterland in shuttle operations. In 1999, he began working with Roraima Airways where he has been for the past 16 years. He was described as dedicated and determined.
Comments

The Charlestown bond PPP/C MP Juan Edghill yesterday wrote the Chairman of the Public Procurement Commission (PPC), Carol Corbin calling for an inquiry into the government's renting of a property in Charlestown for the storage of drugs.

Frauke Petry   BERLIN,  (Reuters) – The Alternative for Germany's (AfD) co-leader Frauke Petry said on Tuesday she was leaving the far-right party, dealing a major blow to its credibility just two days after it surged to third place in a national election.

Ben Stokes   LONDON,  (Reuters) – England all-rounder Ben Stokes was arrested early today after an incident in Bristol and will miss the fourth one-day international against West Indies, the England and Wales Cricket Board (ECB) said.

Dominica was devastated by Hurricane Maria (Reuters photo) Dominica's police chief says the death toll following the passage of Hurricane Maria has now risen to 27.

In keeping with a proposal made in 2015, the United Nations Office on Drugs and Crime (UNODC) has appointed a UN prosecutor to deal with corruption matters in Guyana but the details of his work have not been made public.