The National Air Transport Association (NATA) yesterday honoured three members of the civil aviation sector in commemoration of International Civil Aviation Day.
Director of Aviation Safety Regulations Ankar Doobay, Operations Super-visor Bholanauth Baijnath and Captain Gary Sahai were honoured for their sterling contributions to the local aviation sector.
Doobay started off as an aircraft maintenance engineer in 1982, two years later he became chief engineer at Air Services Limited. Additionally, when the Civil Aviation transitioned to the Guyana Civil Aviation Authority, he was appointed Manager of Airworthiness and he was recently appointed Director of Aviation Safety Regulations.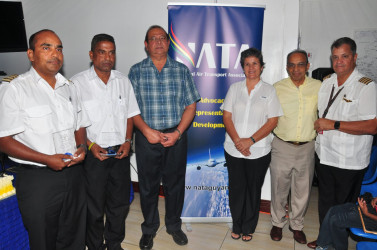 Sahai obtained his private pilot's licence at the Guyana School of Aviation. He did his commercial flight training at Flight Safety International in Miami. He started flying in 1997 and has achieved the mark of 10,000 flying hours and 4,000 hours on agriculture flights.
Meanwhile, Baijnath ventured into the aviation field in 1988 working with Trans Guyana where he had opportunities to travel to the hinterland in shuttle operations. In 1999, he began working with Roraima Airways where he has been for the past 16 years. He was described as dedicated and determined.
Comments

A group of international researchers and petroleum policy advisors will today meet Cabinet ministers to discuss the emerging oil and gas sector and give insight into prudent preparations for the revenues that will be generated from the industry.

A 41-year old mother from Central Amelia's Ward, Linden, died on Monday evening, having reportedly suffered severe haemorrhaging after delivering a 10-pound baby at the Linden Hospital Complex.

Autopsies performed on the remains of Dextroy Cordis, Errol Adams and Kwame Assanah, the three accused robbery suspects who were fatally shot by the police along the Seawall Public Road, in Georgetown last Thursday, have confirmed that they all died from multiple gunshot injuries The autopsies was performed on Monday at the Georgetown Public Hospital mortuary by government pathologist Dr.

Henry Rupert Smith, for the third time, has been appointed Mayor of Mabaruma by Minister of Communities Ronald Bulkan.
Acknowledging a recent ruling in which the Caribbean Court of Justice (CCJ) dismissed an appeal by Guyana Stores Limited (GSL) over the 2% minimum corporation tax applied by the Guyana Revenue Authority (GRA), Caribbean Chemicals, in a similar action, conceded defeat.