NEW DELHI, (Reuters) – An upstart anti-establishment party crushed India's ruling Bharatiya Janata Party in a Delhi state election yesterday, smashing an aura of invincibility built around Prime Minister Narendra Modi since he swept to power last year.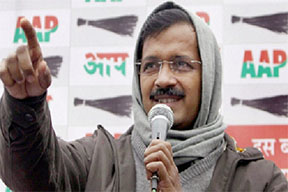 With the vote of the main national opposition Congress party collapsing, the Aam Aadmi, or Common Man Party, was set to capture more than nine-tenths of the seats in the capital, in what Modi's critics said was a warning against the partisan politics of Hindu hardliners in his fold.
Winning power in India's states is critical to control of the upper house of parliament, where Modi's party lacks a majority and has been thwarted in its effort to pass reforms, including wider opening of the insurance sector.
Delhi is a small state, but high profile, and such a comprehensive rout in the capital is a blow to the BJP's ambitions to capture India's second most populous state, Bihar, in an election later this year.
"While Delhi is not very significant in electoral terms, a BJP loss there shatters the popular narrative around the BJP's invincibility," said Milan Vaishnav, an associate at the Carnegie Endowment for International Peace.
"A loss in Delhi certainly signals an end to Modi's honeymoon. Furthermore, because it is the capital city, an opposition government, especially one led by the confrontational AAP, would be a constant thorn in the Modi government's side."
The Aam Aadmi, led by former tax inspector Arvind Kejriwal and campaigning on a platform of pro-poor polices and clean government, was set to win 67 seats out of 70 seats in the Delhi assembly, the biggest ever tally for any party in the capital.
Congress, the BJP's main nationwide challenger, failed to win a single seat, underlining how far the Gandhi dynasty has fallen since the party lost power federally in 2014.
Around the Web