MOSCOW, (Reuters) – It may have been the last note Boris Nemtsov ever wrote, a hurried scrawl in blue pen on a plain white sheet of A4 paper.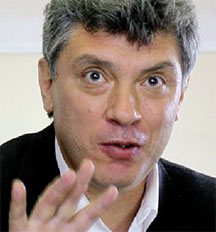 A day before he was shot dead near the Kremlin last week, the Russian opposition figure and his close aide Olga Shorina were discussing a sensitive investigation he was preparing into Moscow's backing for separatist fighters in eastern Ukraine.
Fearing their office was bugged by state intelligence, Nemtsov resorted to scribbling.
"Some paratroopers from Ivanovo have got in touch with me. 17 killed, they didn't give them their money, but for now they are frightened to talk," said the note, shown to Reuters by Shorina.
"He did not want to say anything, just in case. He did not want to utter it out loud, which is why he wrote it down for me," she said.
It was not possible to independently confirm the authenticity of the handwritten note.
Since last summer, reports have been circulating inside the country that many serving Russian troops have died in combat in eastern Ukraine, where the separatist war has killed more than 6,000 people.
Despite what Ukraine and its Western allies say is overwhelming evidence, Moscow adamantly denies sending arms or troops to the region, saying any Russians fighting in Ukraine are volunteers.
That is why Nemtsov's last report was so sensitive – perhaps sensitive enough, according to some of his friends, to provide at least part of the motive for killing him, though they say they doubt it was the main reason.
Around the Web