WASHINGTON, (Reuters) – The U.S. Justice Department is preparing criminal corruption charges against New Jersey Democratic Senator Robert Menendez, CNN reported yesterday.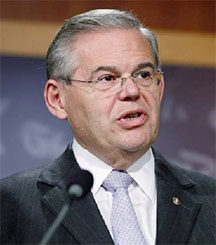 Citing unnamed sources briefed on the case, CNN said the charges center on allegations that Menendez used his office to promote the business interests of a Democratic donor and friend in exchange for gifts. Menendez's office denied any wrongdoing.
"As we have said before, we believe all of the senator's actions have been appropriate and lawful, and the facts will ultimately confirm that," Tricia Enright, Menendez's communications director, said in a statement.
Noting that the official investigation of the matter was ongoing, she said the senator's office "cannot address allegations being made anonymously."
CNN said Attorney General Eric Holder has given the green light for prosecutors to proceed with charges and an announcement could arrive in coming weeks.
Holder, who was traveling in South Carolina with President Barack Obama, said he could not comment.
Around the Web