MOSCOW, (Reuters) – President Vladimir Putin signed a treaty with Georgia's rebel South Ossetia region yesterday that almost completely integrates it with Russia, alarming Georgia and the West a year after Moscow took over Crimea.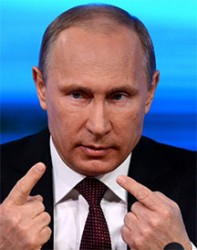 Tbilisi described the "alliance and integration" treaty as a "move aimed at annexation" and the United States and European Union said they would not recognise the agreement, which the EU depicted as a threat to regional security and stability.
Under the deal, signed in the Kremlin by Putin and South Ossetian leader Leonid Tibilov, a former KGB official, the region's security forces, military, economy, customs service and border guards will be deeply integrated with those of Russia.
Russia won a five-day war with Georgia in 2008 over the fate of South Ossetia and another rebel region, Abkhazia. It formally recognises both regions as independent states and signed a similar treaty with Abkhazia last year.
"Another step is being taken today to strengthen our partnership," Putin said after signing what he described as a "landmark" treaty in the Kremlin, with the Russian and South Ossetian flags behind him.
Tibilov hailed the agreement, which will make it easier for the people of South Ossetia to gain Russian citizenship, as "the best possible guarantee of state security". He said EU and U.S. officials should mind their own business.
As they signed the treaty, thousands of people gathered for a concert in the shadow of the Kremlin walls to celebrate the first anniversary of Crimea's annexation from Ukraine, a show of public support for Putin and his assertive foreign policy.
Under banners declaring "We are together!" and "Crimea is ours!", young and old alike danced and sang as a military brass band played patriotic music. Other cities across Russia, and in Crimea, also staged marches and rallies, with balloons and Russian flags flying above them.
Putin's popularity has soared since he delivered a patriotic speech exactly a year ago urging parliament to annexe Crimea, which had been seized by Russian forces after a Ukrainian president backed by Moscow was overthrown by street protests.
Around the Web