RIYADH/DUBAI (Reuters) – Yemen's top factions are squaring off for battle after months of skirmishes, turning respectively to neighbouring Saudi Arabia and its regional rival Iran for help in what may become all-out war.
With President Abd-Rabbu Mansour Hadi seeking a comeback from the port city of Aden while the Shi'ite Houthi movement controls the capital Sanaa, rival administrations are trading bellicose rhetoric as fighting intensifies and factions commandeer airfields for the next stage of the struggle.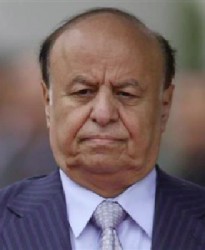 Somewhat on the sidelines, al Qaeda in the Arabian Peninsula (AQAP) and Islamic State are waiting to exploit what some fear could become Yemen's worst conflict since a 1994 civil war.
"For years Yemen has defied all the odds and proved wrong those who said it was on the brink of civil war and about to collapse," Farea al-Muslimi, a researcher with the Carnegie Middle East Center said. "But we may have run out of miracles." Yemeni Foreign Minister Riyadh Yaseen called yesterday for Gulf Arab help to prevent the Houthis' getting air control.
"We have expressed to the Gulf Cooperation Council, the United Nations as well as the international community that there should be a no-fly zone, and the use of military aircraft should be prevented at the airports controlled by the Houthis," he told the newspaper al-Sharq al-Awsat. United Nations mediator Jamal Benomar said on Sunday that Yemen had been pushed "towards the edge of civil war" that he believed neither the Houthis nor Hadi could win.
"Any side that would want to push the country in either direction would be inviting a protracted conflict in the vein of an Iraq-Libya-Syria combined scenario," he told the Security Council.
Violence has spread across the Arabian peninsula country since last year, when Houthi militia seized Sanaa and effectively removed Hadi, a US ally. This angered the Sunni-ruled Gulf states led by Riyadh, which regards the once obscure group from the northern highlands as terrorists.
The turmoil has made Yemen a front in Saudi Arabia's region-wide rivalry with Iran, mainly contested on sectarian lines, by creating an ally for Tehran in its backyard.
Riyadh hosted top-level talks with Gulf Arab neighbors on Saturday that backed Hadi as Yemen's legitimate president and offered "all efforts" to preserve the country's stability. It was not clear if that included military aid. The Houthis, who share a Shi'ite ideology with Iran, have denied taking material and financial support from Tehran. But last year Yemeni, Western and Iranian sources gave Reuters details of Iranian military and financial support to the Houthis before and after their takeover of Sanaa on September 21.
The Houthis adhere to the Zaydi sect of Shi'ite Islam, and despite Yemen's tradition of religious tolerance, their advance has alarmed many Sunnis, some of whom have allied with AQAP.
In a blow to US counter-terrorism operations, Washington said on Saturday it had evacuated its remaining personnel, including about 100 special operations forces, because of the deteriorating security situation.
With both Hadi and the Houthis indulging in chest-beating propaganda and staking rival claims to be the rightful rulers, the stage now appears set for a military test of strength.
Around the Web