WASHINGTON, (Reuters) – U.S. Senator Robert Menendez of New Jersey was indicted on corruption charges, allegations that the high-ranking Democrat vowed to fight at a news conference last night.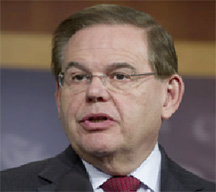 Menendez was indicted by a grand jury in New Jersey for accepting gifts from Salomon Melgen, a Florida ophthalmologist, in exchange for using the power of his Senate office to benefit Melgen's financial and personal interests, according to the court filing.
Speaking in Newark, New Jersey, as dozens of supporters cheered and applauded, Menendez told reporters the prosecutors in the case were "dead wrong" and he intended to prove it.
"I ask my friends, my colleagues and the community to hold their judgment and remember all the other times when prosecutors got it wrong. … I will be vindicated," Menendez said. "This is not how my career is going to end."
He was scheduled to appear in court in Newark today, his spokesman said.
The allegations against Menendez, a senior lawmaker on foreign policy and banking, raise the possibility of Republicans gaining a 55th Senate seat to strengthen their hand in policy fights with Democratic President Barack Obama, should the senator decide to resign his seat.
Menendez said he would temporarily step aside as ranking member, or top Democrat, on the Senate Foreign Relations Committee, in the wake of the indictment.
Around the Web