COLUMBIA, S.C., (Reuters) – An initiative to remove the Confederate flag from the South Carolina State House grounds picked up steam on Tuesday, a week after the massacre of nine black church members, and criticism over the emblem long associated with slavery spread to other U.S. southern states.
U.S. retailers joined lawmakers in distancing themselves from the banner, with industry leaders Amazon.com Inc and Wal-Mart Stores Inc pulling the images of the rebel flag from their stores and websites, joining Google Inc , Sears Holdings Corp and eBay Inc .
The Civil War-era flag of the South's pro-slavery Confederacy has become a lightning rod for outrage over the shootings in Charleston, South Carolina, which authorities say was motivated by racial hatred.
In Columbia, the capital of South Carolina, hundreds of people chanted "Take it down," while state lawmakers voted on Tuesday to open debate on removing the Confederate flag from the State House grounds.
Dylann Roof, a 21-year-old white man charged with nine counts of murder for the shooting at the church last Wednesday, had posed with a Confederate flag in photos posted online with a racist manifesto.
Just hours after politicians in several southern states began calling for the removal of the Confederate flag on Monday, some of the nation's largest retailers announced they were halting sales of related merchandise.
Prominent U.S. flag makers said on Tuesday they would stop manufacturing and selling Confederate flags. "We hope that this decision will show our support for those affected by the recent events in Charleston and, in some small way, help to foster racial unity and tolerance in our country," the Pennsylvania-based Valley Forge Flag company said in a statement.
The debate over the rebel flag spread to other southern states on Tuesday. In Mississippi, the state which still most prominently incorporates the "Stars and Bars" in its flag, Speaker of the House Philip Gunn became the first Republican in state history to publicly support a flag change when he called the Confederate emblem "a point of offense that needs to be removed."
Comments
CARACAS/PUERTO ORDAZ, Venezuela (Reuters) – Venezuela's opposition refused on Wednesday to swear in newly-elected governors before a pro-government legislative superbody it deems unconstitutional, as a small protest broke out in southern Bolivar state over fraud allegations.
BEIRUT (Reuters) – Iran's military chief warned Israel against breaching Syrian airspace and territory on a visit to Damascus on Wednesday, raising tensions with Israel as it voices deep concern over Tehran's influence in Syria.
WASHINGTON (Reuters) – A bipartisan deal from two senators to stabilize Obamacare by restoring subsidies to health insurers suffered major setbacks on Wednesday with the White House saying President Donald Trump now opposes it and senior Republicans speaking out against it.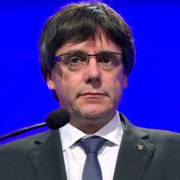 MADRID (Reuters) – Spain's political showdown with Catalonia is set to reach a new level on Thursday when political leaders in Madrid and Barcelona are expected to make good on pledges made to their supporters to stick to their tough positions over the region's future.
QUEBEC CITY, Quebec (Reuters) – Quebec will ban face coverings for people giving or receiving provincial government services under a law passed on Wednesday that rights groups have criticized as marginalizing Muslim women in the mainly French-speaking Canadian province.