ATHENS/BRUSSELS, (Reuters) – Greek Prime Minister Alexis Tsipras called a referendum on austerity demands from foreign creditors yesterday, rejecting an "ultimatum" from lenders and putting a deal that could determine Greece's future in Europe to a risky popular vote.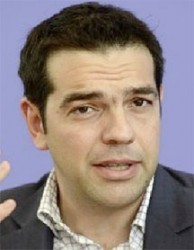 The surprise call marked the most dramatic twist yet in five-month negotiations between Greece and its lenders, plunging the cash-strapped nation into uncharted waters and risking a default and capital controls as hopes for an aid agreement faded.
After a week of acrimonious talks in Brussels, Tsipras dismissed lenders' proposals as "blackmail" before flying to Athens to huddle with ministers. After midnight, he appeared on television to announce plans for a referendum on July 5.
"Our responsibility is for the future of our country. This responsibility obliges us to respond to the ultimatum through the sovereign will of the Greek people," Tsipras said in a televised address to the nation.
The 40-year-old prime minister said he would respect the outcome of the vote. But he argued the lenders demands "clearly violate European social rules and fundamental rights", would asphyxiate Greece's flailing economy and aimed at the "humiliation of the entire Greek people".
Government ministers emerging from the cabinet meeting said they were confident Greeks would vote no and reject the bailout demands, leaving open the question as to whether the country had other options beside leaving the euro in such an event.
The referendum call also throws the country's tottering banking system into focus, though a deputy minister said there were no plans to impose capital controls and banks would open as normal on Monday.
"The risk of Grexit has increased considerably, from previously 20 percent to at least 50 percent," Wolfgango Piccoli of Teneo Intelligence said in a research note. "Avoiding capital controls next week will be very difficult, if not impossible."
Soon after the address in the early hours of the morning, lines of up to 10 people were seen forming to withdraw cash from automated teller machines in some parts of Athens. Small groups of anti-establishment protesters threw petrol bombs and stones at police in an Athens neighbourhood where protests are common.
Around the Web