WASHINGTON, (Reuters) – Israeli politicians and more than 370,000 Britons urged their governments yesterday to bar Donald Trump from their countries after the Republican presidential front-runner said Muslims should be denied entry into the United States.
The calls were part of a growing global backlash against Trump's proposal that cut across nationalities and religions, and began to hit the real estate mogul's brand in the Middle East.
Although Israeli politicians demanded Trump be blocked from a planned visit, a Dec. 28 meeting with Prime Minister Benjamin Netanyahu was still on. In addition to the online petition calling for a ban on Trump from the United Kingdom, a Scottish university revoked his honorary degree.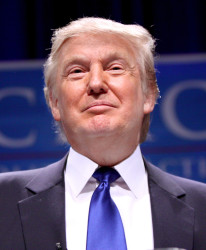 A major chain of Middle East department stores halted sales of the real estate mogul's glitzy "Trump Home" line of lamps, mirrors and jewelry boxes.
Even China weighed in with indirect criticism of Trump's comments, which have been condemned by the White House, U.S. congressional leaders, the United Nations, the prime ministers of France and Britain, a wide array of human and civil rights groups and many of Trump's Republican rivals and potential Democratic opponents in the November 2016 U.S. presidential election.
Trump, who leads opinion polls in the Republican nominating race, on Monday called for blocking Muslims, including would-be immigrants, students and tourists, from entering the country following last week's deadly shootings in California by two Muslims who authorities said were radicalized.
Left- and right-wing Israeli politicians, as well as Israeli Arab lawmakers, condemned Trump's remarks and said he should be barred from visiting. Omer Bar-Lev of the main center-left opposition party, the Zionist Union, took to Twitter to call Trump a "racist."
"I recommend fighting terrorist and extremist Islam, but I would not declare a boycott of, ostracism against or war on Muslims in general," Energy Minister Yuval Steinitz, a senior Likud lawmaker and Netanyahu confidant, told Israel's Army Radio.
Netanyahu issued a statement saying he rejected Trump's remarks but the visit, set two weeks ago, would go ahead as planned and did not indicate support for Trump.
"The prime minister rejects the recent comments by Donald Trump with regard to Muslims. Israel respects all religions and diligently guards the rights of its citizens," a statement from Netanyahu's office said.
Around the Web