Guyana born, Scottish citizen, Angus Thompson who coaches rugby in Australia has verbally agreed to lend his expertise to the Guyana Rugby Football Union (GRFU).
Thompson will serve as the union's Technical Director and will be working alongside the local coaching staff headed by Theodore Henry.
According to president of the union, Peter Green, Thompson will arrive here next month and will work for a stipend. His meals and accommodation will also be covered by the union.
Below are his credentials in the 15's and the shorter format of the game.
7s Coaching  2014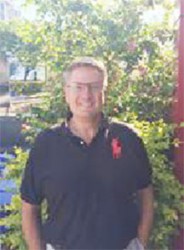 Cook Islands Queensland 7s – Head Coach
Responsible for the organisation, planning and implementation of 7s specific training and skills. Both for individuals and the group as a whole
– Winners of the Helensvale 7s
– Competed in the North Brisbane 7s where we defeated Brothers one of the top Premier Grade Clubs in Queensland
– 7 players from our group represented the Cook Islands at National level in 2014, a record for Cook Islands Queensland
Cook Islands National 7s
– Managed and ran the preparation of the Queensland based players for the National Squad
– Accompanied the group and assisted at the Hong Kong 7s 2014
– Assisted with the preparation of the squad during a weeklong training camp in Brisbane prior to the Oceania 7s tournament
Aitutaki 7s – Consultant
– Assistant with the in tournament preparation of the squad during the 7s in Heaven in the Cook Islands
Easts Rugby Union Under 16s 7s – Consultant
– Advised on and ran the training and preparation of the squad in the final 3 weeks of the Brisbane Summer tournament
– Achieved 3rd place after a 43-7 victory in the final game
7s Coaching Education
Graduated from the International Rugby Academy New Zealand (IRANZ) 7s Coached Course in October 2014
The course was facilitated by Geoff Alley (Head 7s Coach of North Harbour and former NZ 7s International. He was assisted by DJ Forbes (NZ 7s Captain) and Tomasi Cama (No 2 All-time points scorer in the IRB 7s World Series)
All aspects of the game were covered including:
– Squad selection
– Pre-tournament preparation
– Conditioning
– Tactics
– Attack
– Defence
– Set piece
– Breakdown
– Creation of Space
– Continuity
– Team Culture
Each area of the game was covered and through DJ and Tomasi we were able to get current insights into how the NZ 7s team approach and perform each aspect
15s Coaching
I have been coaching 15s for 8 years which has included:
– Universitario de Rosario, Argentina – Director of Coaching
– Brisbane Irish RFC – Head Coach
– Wests Bulldogs Brisbane Reserve Grade – Forwards Coach
– Souths Rugby Union Brisbane Premier Grade – Assistant Coach
7s Coaching Education
I have completed multiple courses and seminars to keep abreast of the latest trends and techniques which include:
– IRANZ 2 week High Performance Coaches Course – this was taught by past and present All Black players and coaches and attended by 2 Super Rugby franchise coaches from South Africa
– Sportacise Rugby Academy
– Numerous Seminars and Workshops presented by the Australian and Queensland Rugby Unions
To assist in the performance of this role I have access to friends at the top levels of many Unions including:
Matt Taylor – Scotland International and Glasgow Warriors Defence Coach
Richard Graham – Queensland Reds Head Coach
Paul Healy – Chile Head Coach (7s and 15s)
Geoff Alley – North Harbour 7s Head Coach
Tomasi Cama – NZ 7s International
Personal details
Born: Georgetown, Guyana
Around the Web