KINGSTON, Jamaica, CMC – Guyana Jaguars continued their imperious march through the WICB Professional Cricket League, easily trouncing Jamaica Franchise by 105 runs on the final day of their fifth round contest here yesterday.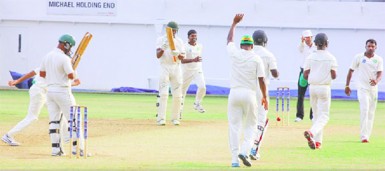 Starting the day needing to claim just four wickets to wrap up victory, Guyana were briefly held up by lower order resistance before ousting the hosts for 234.
Fast bowler Keon Joseph was the pick of the bowlers with three for 34 while left-arm spinner Veerasammy Permaul (2-37) and Ronsford Beaton (2-47) supported with a brace of wickets each.
Odean Brown, batting at number 11, top scored with an enterprising 45 not out while Dave Bernard Jr, unbeaten on 16 overnight, got 37.
Damion Jacobs, 25 not out overnight, made 36 while number nine batsman Jason Dawes chipped in with a defiant 33.
Resuming the day on 105 for six in need of 340 for victory, Jamaica flourished thanks to Bernard and Jacobs who extended their seventh wicket to 65 before being separated.
Bernard faced 69 balls in an hour-and-a-half at the crease and hammered eight fours while Jacobs faced 70 balls in 75 minutes, and counted six fours.
Beaton got the breakthrough, removing Bernard lbw and triggering a slide that saw three wickets tumble for 13 runs.
With Jamaica tottering on 150 for nine, Guyana appeared set for an early evening but the last wicket pair of Brown and Dawes hunkered down in a stand of 84 to frustrate the visitors.
Brown hit five fours and two sixes off 75 deliveries while Dawes played the anchor role, counting three fours and a six off 111 balls in just over two hours at the crease.
The impressive Joseph returned, however, to wrap up the innings when he had Dawes caught at the wicket.
With the victory, Jaguars remained top of the standings on 75 points.
Scoreboard
GUYANA JAGUARS 1st Innings 314
JAMAICA 1st Innings 177
GUYANA 2nd Innings 202
JAMAICA FRANCHISE 2nd Innings (target: 340)
(overnight 105 for six)
N Bonner lbw b Joseph                                                            1
John Campbell c Permaul b Beaton                                8
J Blackwood c Reifer b Joseph                                         7
H Miller c Barnwell b Reifer                                           7
*T Lambert c Hetmyer b Bishoo                                  29
D Bernard Jr lbw b Beaton                                         37
+C Baugh Jr lbw b Permaul                                           1
D Jacobs lbw b Barnwell                                               36
J Dawes c wkp Bramble b Beaton                              33
M Mindley b Permaul                                                      5
O Brown not out                                                          45
Extras (b11, lb3, w4, nb7)                                                 25
TOTAL (all out, 89.3 overs)                                        234
Fall of wickets: 1-9, 2-11, 3-17, 4-50, 5-71, 6-72, 7-137, 8-141, 9-150, 10-234.
Bowling: Beaton 13-4-47-2, Joseph 8.3-3-34-3, Reifer 5-1-13-11, Barnwell 11-6-16-1, Permaul 24-13-37-2, Bishoo 28-5-73-1.
Result: Guyana Jaguars won by 105 runs.
Points: Guyana Jaguars 18, T&T Red Force 3.
Toss: Jamaica.
Umpires: Christopher Taylor, Gregory Brathwaite.
Around the Web