Alika Morgan and Cleveland Thomas were the top open female and male athletes respectively at Sunday's Cross Country event which took place in Linden.
Thomas, who has been in brilliant form following his most successful season last year, was the first male to cover the six-kilometre course which started and ended at the Bayrock Football ground.
The Running Brave Athletic Club standout clocked 19 minutes, 17.16 seconds for the win in the Athletic Association of Guyana (AAG) organized fixture.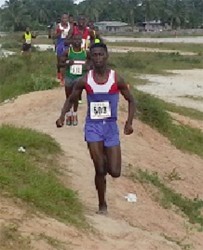 Thomas led Nathaniel Giddings (19m.27.54s) and Kevin Bayley (19m. 30s) onto the podium.
Morgan, who seems to rounding into good form this season after a seesaw 2014, topped the female section, running over four kilometres course in 18 minutes, 42.5 seconds.
Junior Carifta Games gold medalist, Cassey George (19m.24.4s) was relegated to the silver while Running Brave's Andrea Foster snared bronze in a time of 19m.35.2s.
Six other categories of athletes competed in the second AAG organized meet of the season.
Here is a summary of them:
13-15 Females – 1KM
8 Athletes Started
1st Maria Urguhart R/B- 10:06:6
2nd Lenanna Charles GDF- 10:28:9
3rd Chantoba Bright UDSAC- 10:44:0
13-15 Males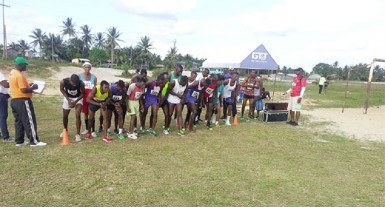 6 Athletes Started
1st Moses Best- Police- 8:55:3
2nd Murphy Nash- CWSS- 9:09:5
3rd Tabiki Thompson- UDSAC- 9:49:6
16-17 Youth Females 2KM
4 Athletes Started
1st Joanna Archer- Police- 15:57:3
2nd Vanetta Hinds- CWSS
3rd Melissa Thomas- UDSAC- 22:18:9
Youth Male 16-17- 3KM
9 Started
1st Odwin Tudor- GDF- 14:08:0
2nd Samuel Lynch- R/B- 15:03:0
3rd Jamal Johnson- UDSAC- 15:11:0
Junior Female 18yrs- Under 20 4KM
4 Started
1st Claudarice McKoy- R/B 17:18:83
2nd Mariah McKenzie- R/B- 18:17:26
3rd Onika Eastman- Police- 25:43:94
Junior Male 18yrs- Under 20 4KM
8 Started
1st Matthew Mackenzie- R/B- 16: 59:3
2nd Carl Mackenzie- R/B- 17:36:6
3rd Leon Benjamin- CWSS- 17:50:0
There were 73 starters in total. The athletic season continues on Sunday with the AAG's second track and field Development Meet at the GDF Ground. Athletes will get in the blocks from 12:00 noon.
Around the Web