Dead lifting four times one's body weight is a herculean task for the world's strongest men.
Not if your moniker is 'The Accomplisher'.
On Sunday at the National Gymnasium, Randolph 'The Accomplisher" Morgan dead lifted 701 pounds raw (without dead lift gear) not once but for two reps.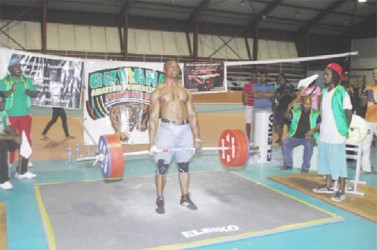 That is no small feat for a man weighing 178 pounds.
So what was the gold medalist in the dead lift at the 2012 World Powerlifting Championships out to prove?
"I used that opportunity to show the public and other lifters that I'm still in the game and can be what I want to be and that is number one for Guyana" Morgan told Stabroek Sport yesterday.
The five-time Caribbean champion pointed out that he was on the shelf following a vehicular accident last January and many in the powerlifting fraternity thought he had fell off. If Sunday's display was a welcome back present to the non-believers, Morgan wrapped it up and put a bow on it.
"I'm back to reclaim my record I had in the dead lift," boasted the decorated strong man.
In 2012, Morgan dead lifted 330kgs at the World Championships which was hosted by Puerto Rico. The Commonwealth Championship gold medalist now has his sights set on the dead lift world record for the 83kg category which is 345kgs (759 pounds).
"Gears make a lot of difference but I have been working on my core" Morgan highlighted
"I know I can break it, if I can do 701 pounds for two reps naturally without gears, I can do the world record."
Morgan's aim is not just to raise the bar on the dead lift, he wants to smash the world record.
"I just don't want to break the record I want to take it very high. I'm trying to carry it to 800 pounds, the preparation has started."
According to Morgan, he is gearing his mind and body to rewrite the world record books at the Commonwealth Championships scheduled for Canada in December.
If 'The Accomplisher' lives up to his moniker, which he usually does, the 83kg class dead lift world record will be his.
Some things you may not know about Morgan:
The Corporal in the Guyana Police Force lifts weight to release the stress he endures at his day job. He is also a personal trainer. (Emmerson Campbell)
Around the Web