The Guyana Cricket Board (GCB) in partnership with Scotia Bank yesterday launched its second season of the Kiddies Cricket School Programme, under the theme "Cricket is my Game, Learn It".
The launching of the 2015 programme which is expected to bowl off next month, was done at the GCB boardroom, Regent Street in the presence of GCB President Drubahadur and Territorial Development Officer (TDO) Colin Stuart. Other sponsors such as the Guyana Teachers Union (GTU), the Ministry of Education (MOE), Ministry of Culture, Youth and Sport and the Child Care and Protection Agency were also present.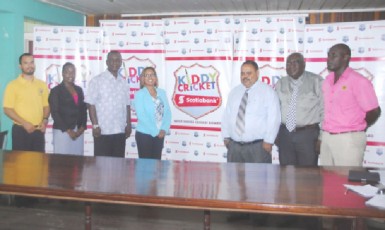 The programme is expected to target Grade 3 and 4 pupils aged 7-9 about the importance of coaching, self-concept, nutrition, team-work, captaincy, child protection and overall leadership qualities.
According to Administrative Field Officer of the GTU Lancelot Baptiste, the Union was happy to be a part of the curriculum which he stressed as being the grassroots reservoir of Guyana and West Indies Cricket.
He noted the likes of Ramnaresh Sarwan, Roger Harper, Clyde Butts, Alvin Kallicharran and other Guyanese who went on to represent the West Indies but first got their feet wet courtesy of the GTU cricket.
Baptiste also identified the move as one which will benefit the less fortunate players who cannot afford to join a cricket club, further stating the GTU's willingness to be a part of any such activities.
The GCB President called on the Minister of Sport to grant concessions by putting measures in place to maximise the potential of endeavours such as this, while adding that the GCB and the West Indies Cricket Board (WICB) both of whom are also a part of the programme will be looking forward to the continued support from Scotia Bank in the future.
Director of Sports Neil Kumar briefly stated that the programme's initiative and agenda were good and he hoped for much success.
Marcel Hutson, Assistant Chief Education Officer for primary schools in Guyana explained the time is right for such an initiative and more emphasis will be placed on the estimated 40 percent of girls in the programme.
Around the Web