SYDNEY, Australia, CMC-West Indies survived a scare to beat a motivated Scotland by three runs in their second warm-up match of the ICC Cricket World here yesterday.
Half centuries from Denesh Ramdin and Lendl Simmons powered West Indies to 313 for the loss of nine wickets after they won the toss and elected to bat at the Sydney Cricket Ground.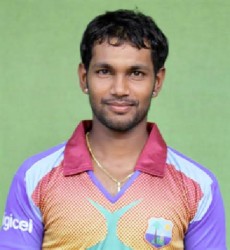 Scotland put up an outstanding display as Kyle Coetzer's brilliant 96 and Richie Berrington's unbeaten 70 setup an enterprising run chase but was not enough to see them home.
West Indies innings started with a stutter after Chris Gayle and Marlon Samuels were dismissed for 1 and 0 respectively as they plunged to 59 for three.
But Dwayne Smith and Darren Bravo chipped in with 45 and 43 respectively before the innings picked up momentum with a 117 run stand for the fifth wicket between Ramdin and Simmons. The partnership produced nearly eight runs an over with Ramdin hitting six fours and a six in his 88 off 86 while Simmons' 47-ball 55 included five fours and two sixes.
The innings were bolstered again with late strikes from Andre Russell and Darren Sammy, who clobbered 53 runs together in 26 balls to take the score past 300.
Sammy punished the bowling with his 17-ball 36, hitting five boundaries while Russell hit three fours and a six on his way to 24 as the team ended on 313 for 9 after two run outs, Sammy and Nikita Miller.
Scotland were given a strong opening stand of 75 by openers Coetzer and Callum MacLeod before Sulieman Benn's double-strike put them on a shaky 124 for 3 in the 26th over.
Scotland's innings were given impetus by 60-run stand between Coetzer and Freddie Coleman, before Coetzer was dismissed six runs short of his century by Sheldon Cottrell, who run him out.
An 86-run stand between Berrington and Matthew Cross also helped to bring them within sight of beating the former World Cup champions.
However as the play entered the last phase, the tail-end batsmen failed to complete the mission.
With eight required of six, Scotland lost a couple of wickets and in the end lost the game by just three runs  as Kemar Roach defended  the last over.
Scoreboard
West Indies
D Smith            c †Cross b Evans                                                   45
C Gayle c †Cross b Wardlaw                                                            1
DM Bravo         c Berrington b Haq                                              43
M Samuels        c †Cross b Davey                                                   0
D Ramdin†        c Coetzer b Evans                                                 88
L Simmons       lbw b Evans                                                            55
A Russell          c Evans b Davey                                                    24
D Sammy         run out (Taylor)                                                    36
N Miller run out (Taylor)  0          –
K Roach           not out                                                                      1
Extras   (lb 3, w 16, nb 1)                                                                20
Total     (9 wickets; 50 overs)                                                        313
Did not bat: J Carter, S Benn, S Cottrell, J Holder*, J Taylor
Fall of wickets 1-10 (Gayle), 2-54 (Smith), 3-59 (Samuels), 4-134 (Bravo), 5-251 (Simmons), 6-252 (Ramdin), 7-305 (Russell), 8-312 (Sammy), 9-313 (Miller)
Bowling: Wardlaw 10-2-61-1,Taylor 8-0-52-0, Evans 10-0-63-3, Davey 10-0-55-2,Haq 10-0-66-1,Berrington 2-0-13-0.
Scotland innings
K Coetzer          c Russell b Miller                                                96
CS MacLeod     lbw b Russell                                                       32
H Gardiner        c †Ramdin b Benn                                              7
M Machan         c Cottrell b Benn                                                17
F Coleman        run out (Cottrell)                                                34
R Berrington      run out (Russell)                                               66
M Cross†          c Bravo b Roach                                                   39
J Davey            not out                                                                      9
R Taylor            c †Ramdin b Russell                                              0
R Haq   c Samuels b Roach                                                              0
A Evans            not out                                                                      0
Extras   (b 1, lb 5, w 2, nb 2)                                                          10
Total     (9 wickets; 50 overs)                                                       310
Did not bat: P Mommsen*, S Sharif, M Leask, I Wardlaw
Fall of wickets 1-75 (MacLeod), 2-104 (Gardiner), 3-124 (Machan), 4-184 (Coetzer), 5-214 (Coleman), 6-300 (Cross), 7-302 (Berrington), 8-302 (Taylor), 9-307 (Haq)
Bowling: Roach 8-0-59-2, Cottrell 10-1-73-0,Russell 8-0-32-2, Sammy 3-0-21-0,Benn 10-0-47-2, Samuels 4-0-23-0, Mller 7-0-49-1.
Result:West Indies won by three runs
Players: West Indies 15 (11 batting, fielding)
Toss – West Indies.
Umpires – Johan Cloete  and Paul Reiffel
Around the Web