Colin Wong won the first title when the annual National Sports Commission Mashramani table tennis tournament got underway yesterday at the Cliff Anderson Sports Hall.
Wong defeated Krystian Sahadeo 11-5, 11-4, 11-6 yesterday to win the boys nine years and under title
In the semi-finals Wong defeated Christopher Shepherd 11-0, 11-2 and 11-4 while Danesh Persaud lost to Sahadeo 8-11, 11-9, 11-8 and 11-7.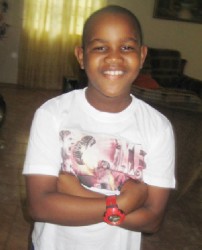 The losing semi-finalists were awarded joint third place.
Also winning titles yesterday were Cieara Sukhu and Kaysan Ninvalle in the girls' and boys' 11 years and under divisions.
The girls' 11 years-and-under division ended in a three way tie after Sukhu defeated Chelsea Hutson 11-9, 11-5 and 11-7 but lost to Thuraia Thomas 7-11, 6-11, 19-17 and 3-11 while Hutson defeated Thomas 11-5, 11-8, 5-11, 5-11 and 11-8.
Thomas was adjudged second and Hutson third on the tie break.
In the 11 years and under boys' category there was no such drama as Kaysan Ninvalle easily disposed of Isiah Layne 11-4, 11-5 and 11-2.
In the semis Ninvall defeated Sahadeo, 11-4, 11-4 and 11-4 while Layne got the better of Wong 11-3, 11-5 and 11-5.
Today the novices' competition will get underway prior to the opening ceremony at 10am to which the Director of Sport Neil Kumar and Minister of Sport Dr. Frank Antony are expected to attend.
Following the opening ceremony there will be play in the boys' and girls' 13 years and under divisions and the Open u21 category.
Around the Web